Dog leashes in an endless variety from standard to fashion.
Going into a shop and looking for a dog leash sounds easy. Dog leashes are available in an endless design from standard leashes to fashion leashes.  
Not every dog leash is a good choice, I give you my recommendation of some of the best dog leashes for your dog. 
When you have a dog, that loves to chew dog leashes to pieces than you are buying every 2 weeks a new one. 
When our Charly was young, he had the habit of chewing through every dog leash I purchased. It does not matter what material it was, the fact was it had an attraction to Charly, and he would go and pick up the dog leash and go into a corner to hide and chew it into pieces. Best interactive toys for dogs.
Quickly I stopped buying leather leashes as those are his favourite and as you know a good one is not cheap.
I know what you think about, why I did not buy him chewing toys, or leather toys. Well, I did, and I bought every chewing toy I could get my hands on, but my Charly preferred the dog leash.
The funny thing was the new ones did not attract him, only the ones we used already.
A dog leash has different purposes, and it does not matter if you use it for training purposes or to control your dog, or just have a nice walk with your dog.
Download our free ebook " For the love of dogs" Click here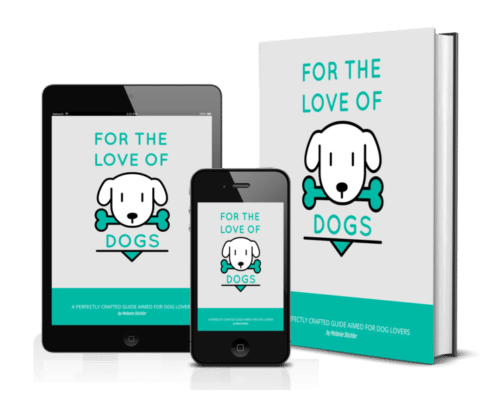 See how easy it is to buy a Dog Leash. But is it the right one for my dog?
It is crucial that you buy and use an appropriate dog leash. The variety is endless, from fashion dog leashes to standard dog leashes and a lot of the fashionable ones are designed for fashion but not walking safely with your dog.
When you buy a leash at least buy one proper one and another fashion one if you love the fashion design dog leashes. Just make sure the fashionable ones are safe for your dog. 
A few things you should look out for when buying a dog leash for your dog.
Your Dog Leash should be Strong and hold on to your dog when your dog starts pulling. ( that goes with the weight of your dog) 
Safe and appropriate
Comfortable for your dog
No hazard for your dog
PET KIT GO Smart Dog Leash
The PET KIT GO is a Bluetooth-enabled smart dog leash that tracks walking distances, times and walking routes for both dog and human health tracking. Simply install the PET KIT GO Application on all iOS and Android devices and pair with your smartphone.
Once paired, the handle vibrates when receiving notifications, e-mails, texts, and incoming calls. Users can set a walking timer on their smartphone devices and, once the desired time is reached, feel the vibration of the handle.
Using MAPS this device tracks your actual walking route history on your smartphone. Users can also share their completed walking distances and roadmaps with loved ones and friends.
The GO Leash also allows users to Pin Drop and share their locations with a click of a button located above the handle. The leash also features dual-sided banded LED lights that are smartphone-enabled and light intervals with three different settings. Users can set a timer from their smart devices to when they'd like these lights to automatically turn on and how they'd turn on.
Download our free ebook " For the love of dogs" Click here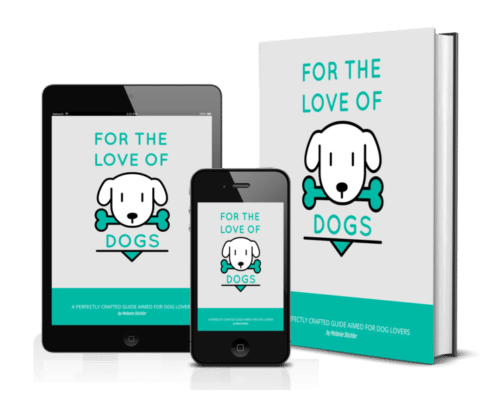 Dog Leashes come with different cords and ropes. Choose the one that suits you.
Dog leashes come in three fundamental types. Each of those types has a slightly different purpose and will come with some advantages over the other types.
When choosing a dog leash, you need to consider the weight, size and size of your dog. You might need to buy more than one dog leash as a Labrador puppy needs a different dog leash than a grown out Labrador dog.
Plus you need to consider what you want to do with the dog and the dog leash. I mean the activities you are going to do with your dog.
Dog leashes usually come in 4 standard types.
A. The Standard Dog Leash
B. The Retractable Leash
C. The Adjustable Dog Leash
D. The Training Leash
The Standard Dog Leash for regular walks and strolls around the park and street.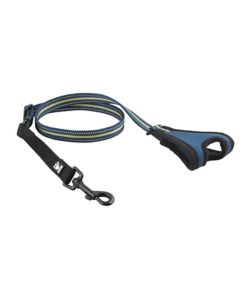 Hurtta Free-Hand Short Jogging Dog Leash
Free your hands! The innovative design of Hurtta's Free Hand leash allows you to put the handle around your wrist while leaving your fingers free to move. This is great for owners that like to jog with their dogs, and also great for dog owners who have limited mobility in their hands and have trouble making a fist.
Features:
Flexi section decreases stress when your dog suddenly pulls on the leash
Reflective striping allows for visibility in low light settings
Buy the Hurtta Free Hand Jogging dog leash here
A Standard Dog Leash is precisely what it says, a dog leash for a standard purpose. They come in a standard size and different sizes in length.
There is the longer standard dog leash with around 8 feet in size. This standard dog leash gives your dog a bit more freedom to roam and the dog owner control over the dog.
The shorter leash around 4 feet provides the dog with less sovereignty but more control for the dog owner. Important is that any leash is comfortable to the dog.
The Retractable Dog Leash for the freedom of roaming.
Dog Trainers do not recommend this dog leash. But despite the Dog Trainers, this leash is very popular under the Dog owners. The retractable dog leash gives the dog owner the chance to lengthen the cord and give the dog more freedom to roam.
There are retractable dog leashes which have up to 26 feet of an extension cord, it is for sure a great way of freedom for a dog to roam but in case if the dog suddenly bolts than the long cord is can easily snap or injure the pet and the owner of the dog.
It is hard to pull the dog back fast, and the cord can cause burns when you try to pull back your dog with the rope.
How to train my dog to walk heel. In simple and easy steps.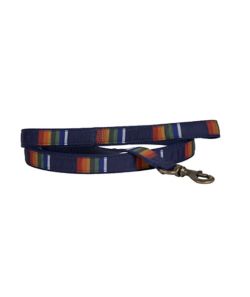 Carolina Pet Pendleton National Park Hiker Crater Lake Dog Leash

The Carolina Pet Pendleton National Park Hiker Crater Lake Dog Leash is a great combination of style and function.  The leash has printed park stripe grosgrain ribbon stitched onto nylon webbing.  The antiqued brass snap bolt makes connecting to the matching collar a breeze.  
The Adjustable Dog Leash more control for the dog owner.
Those are the dog leashes what combine the standard dog leash and the retractable dog leash.
This dog leash is in length between 3 feet to 6 feet, and the range can be increased and decreased by adding different loops or clips along the cord.
This adjustable dog leash is good for training purposes and when you go out for a walk. It is a handy and easy adjustable dog leash.
The Training Leash for first time walks with your puppy.
It is a special dog leash that goes around the body of a dog. It helps to keep the dog especially a young one by the heel.
The Trainer Dog Leash uses a moderate firm resistance to discourage your dog from pulling on your leash. Easy to put on, just clinch the leash to your dog's collar, down the back and around the hips.
There is a gentle contracting around your dogs hip, and this will make your dog stop pulling the leash.
It is not recommended for a long time as when you want to have a pleasant walk with your dog you should teach him how to walk heel.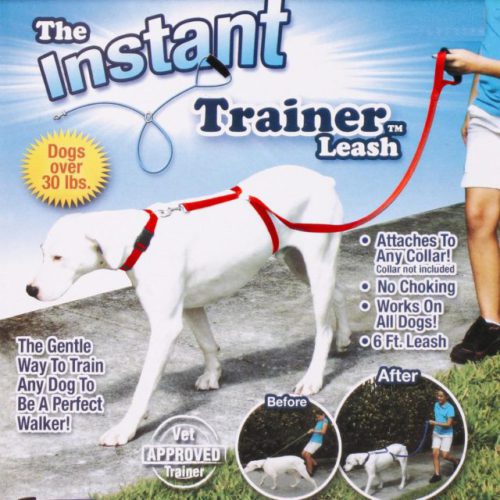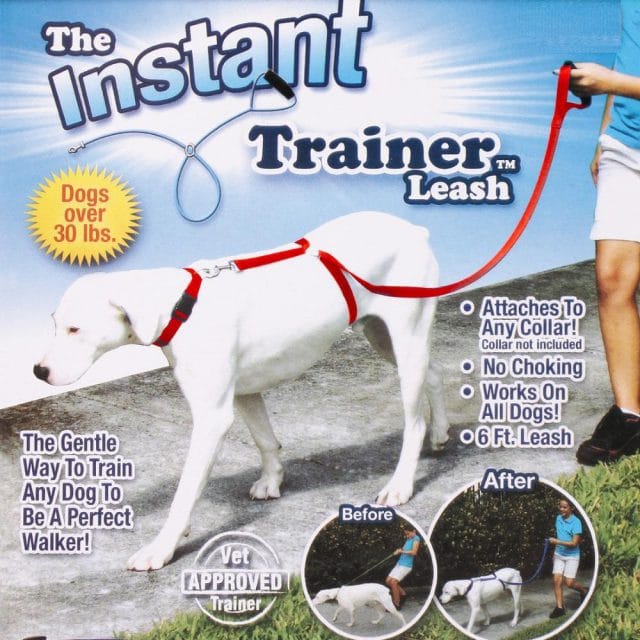 It helps that your dog will stop pulling during your walk.
It teaches him how to walk without you the dog owner being pulled.
Seen on TV this Instant Trainer Dog Leash trains your dog from the beginning to stop pulling.
The Instant Trainer Dog Leash uses a gentle firm resistance to discourage your dog from pulling on your leash.
Easy to put on, just clinch the leash to your dog's collar, down the back and around the hips. 
Click here to buy the Trainer dog leash 
Dog Leashes with different Material. Choose your favourite.
When you know what kind of dog leash you want for your dog, you can move on to the next step and decide on the material.
There are 3 main materials available now on the market.
Leather Dog Leash
Nylon Dog Leash
Chain Dog Leash
A leather Dog Leash the favourite Material for many dog owners.
The leather is a durable and natural Material and depends on which country you live it will need some maintenance. Dogs love the Leather dog leash, and lots of them use to chew on them. Leather leashes are more expensive than other material.
Nylon dog leash a popular material in this time.
Nylon is durable, but it is not natural like leather. Nylon dog leashes are cheaper as the material is cheaper in general. Nylon dog leashes are weather-resistant, and a dog needs to chew a long time to get through it.
Nylon also has different colours and designs. Nylon Dog leashes are available in various designs and colours.
When you got a tenacious chewer like our Charly a metal dog leash is the solution. The only drawback is that those leashes are quite heavy and the longer you take the leash, the heavier the chain dog leash will become.
Never less I used, in the beginning, the chain dog leash but after a while, Charly has grown out of chewing every leash.  I am happy about that.
After you determine the kind of dog leash you need to learn about the length of the leash.
Download our free ebook " For the love of dogs" Click here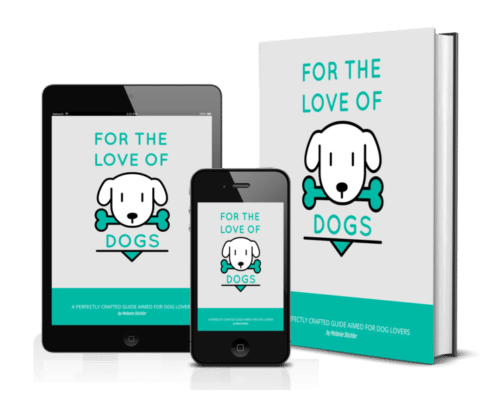 Different dog leashes are available in various lengths.
Shorter dog leashes in length are used for safety and training. Longer dog leashes are used for distance command training.
Those longer dog leashes are perfect for your dog to roam around without losing control.
Determine also the right width for your dog leash.
For dogs who pull or chew the leash, you should consider a thicker and broader leash. A thicker dog leash will help to prevent the leash from snapping.
It all depends on the size and weight of a dog. It also makes it harder for a dog to chew through the dog leash. When you have a smaller dog, then you would choose a thinner and slimmer dog leash.
Don't forget to upgrade your dog leash when your puppy is growing up.
Which Dog Leash in size and thickness for which Dog.
Here is a small table on measurement about the different leashes.
#4 feet: This dog leash is for walking a dog in high traffic areas, you can also get a shorter dog leash like 2 or 3 feet. A shorter dog leash gives you always more control over your dog, and it is a good dog leash for training a dog walk heel.
#6 feet: This dog leash is perfect when you want to enjoy the walk with your dog. Consider the length of this dog leash works best in the area which is not so busy and crowded.
#8 feet to 10 feet: This dog leash length is perfect for obedience training as it allows some distance between you and your dog.
You need to have experience as it is easy to lose control over your dog.
#10 feet and longer: Those long dog leashes are perfect for distance command training, some dog leashes are longer than 50 to 100 feet. Those dog leashes are long, and you can quickly lose control over your dog, the experience is required.
It does not matter which dog leash you choose it has to be the fit for your dog. Any dog leash should be comfortable and safe for your dog.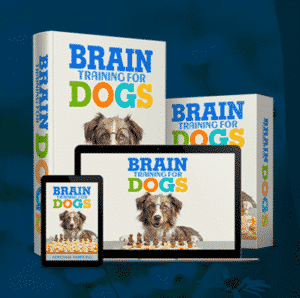 Do you have a favourite Dog leash or do you like the fashionable dog leashes?
I had for a while some of the fashionable dog leashes but did not use them often as for looking good that was all for bigger dogs the fashionable dog leashes are not so good and they break easily. 
For the smaller dogs like a Shih Tzu dogs those fashionable dog leashes are ok, and they look cute on them. 
If you have a problem getting your dog to walk on the leash or your dog is too excited and distracted try the Brain Training for Dogs.
Click here to go to the Brain Training for dogs. 
What is your favourite Dog Leashes? You have some tips please share them with us.  
All Yours 
Melanie 
How to train your dog to walk heel 
Feng Shui And Pets. Cat, Fish, Dog. Who Is More Powerful For Good Luck?
MyPetshopworld Disclaimer:
This website is not intended to replace professional consultation, diagnosis, or treatment by a licensed veterinarian. If you require any veterinary-related advice, contact your veterinarian promptly. Information at mypetshopworld.com  is exclusive of a general reference nature. Do not disregard veterinary advice or delay treatment as a result of accessing information at this site.