Do you have a leash reactive Dog?
Do you have a dog that is reactive to other dogs during walks (growling, barking, or lunging)? Many owners struggle with this issue and need some immediate tools. The reflective dog training leash is an excellent tool for you and your dog.
Getting a reflective dog training leash. 
When you have a dog, one of the most critical steps you can take is to ensure that it's properly trained. Walking with your dog can be pleasant or stressful. That is all depending on you and your dog.
A well-trained dog is less aggressive, better behaved, and more enjoyable when you go with it for a walk. Your dog can be excellent in the dog park or go for a walk with you without a leash. Soon as you put the leash on your dog, his behaviour will change.

The first step to controlling leash reactivity is to manage your dog proactively.
If you missed the training at an early age of your dog, then you should consider training your dog now, as it is never too late in training. But the younger the dog, the easier the training will be.
Dog Training is essential. You must have the right tools to get your dog to behave correctly. A reflective dog training leash comes in very handy.
What you need when going for a walk with a leash-reactive dog. 
Features of the Reflective Dog Training Leash 
The dog leash belt is 10m long and 1.5cm wide. Great for hiking, camping, training, hunting, backyard, beach, callback training, outdoor playing with tennis balls, and swimming. Give your dog more space and freedom.
A tangle-free 360-degree swivel buckle gives your dog the best freedom. Made of Zinc Alloy material and ensures long-lasting durability.
Rain and snow will make hemp and nylon rope wet and heavy, but PVC won't! Keep your outings as easy as possible, and enjoy pleasant walks and playtime with your dog. If the leash gets dirty, wipe it with a cloth or paper towel; it is new! Perfect for your beachbound pooch or hunting dog.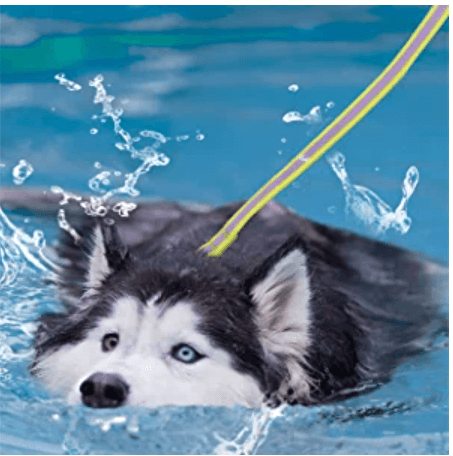 This red dog rope is always visible and paired with reflective strips; it ensures that you and your dog will be spotted by passing cars and pedestrians while walking at night. One of the great features is it is shock absorbent.
It has a  high saturation and bright colour, making it highly visible in the grass and bushes, ideal for tracking your dog.
Buckle is made of a strong zinc alloy material with excellent rust resistance and a 360° head rotation, so there is no fear of breakage, and it is effortless to wear and remove.
The end of the leash contains a clip hook that lets it fasten securely to a collar or a lead head collar.
This hook is so strong that it can withstand more than 360 kg of pressure, so it's perfect for use with big dogs. The sturdiness of the leash and the hook enable pet owners to quickly correct any undesirable behaviour that a dog exhibits while allowing the animal and the owner to enjoy being out in public.
Dogs are our good friends, and we must give them freedom while training them. Running in an open field within our control can also release their nature and exercise their coordination ability so that they can grow up healthily. A relaxed dog is easier to train than a stressed-out dog. 

The leash is compatible with the lead head collar for dog training. The leash is made of resilient yet lightweight rope. Buy the reflective dog training leash here.
Cheap Dog Leashes versus the Reflective Dog Training Leash 
 Cheap leashes you can buy at any pet store differ from those you need.
It would be best if you had the Reflective Dog Training Leash. That leash's specific purpose is to help you to train your dog. It does a great job when you go for a walk with your dog as it has the length for him to stroll and discover the surroundings.
Also excellent for teaching your dog recalls. It has the length needed to allow your dog to wander and ensure your command to come! Is obeyed.
This leash is compatible with the lead head collar for dog training. The leash is made of resilient yet lightweight waterproof Soft Nylon rope.
The Reflective Dog Training Leash is made to last.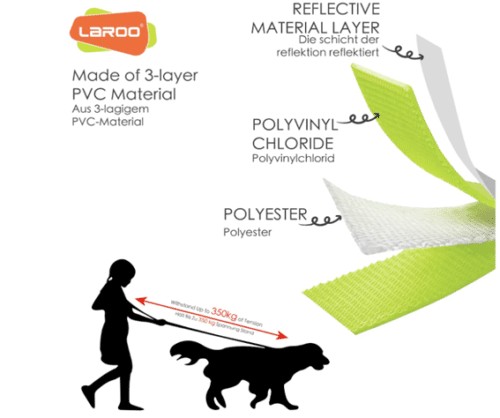 When your dog is like our dogs, then no leash is safe. There is only one leash that withstands the jaw of our dogs. That is the reflective dog training leash.
Your dog can't easily chew through or yank it out of your grasp. The material helps it become shock absorbent, so no matter how much your dog wants to take off after a squirrel, you won't feel that painful jerking motion on your arm like you get with other leashes.
Super pull resistance, which can withstand up to 360kg of traction.
Another great feature of this leash is that it has a non-slip handle. This gives you a more extraordinary ability to control your dog's actions while you're training your dog. Plus, if the dog pulls against the rope, the non-slip handle prevents that painful friction burn some leashes can give you.
You can use this leash when your dog learns to behave correctly. The leash is durable and tough enough to use even after your dog is fully grown.
You will see your dog will be more willing to walk on the leash with the reflective dog training leash. The length is such a great bonus.
Train your Dog. Do it yourself with a Professional Trainer that is guiding you.