Finally, there are alternative solutions for the Collar of Shame. My favourite and my Review on different Doughnut collars.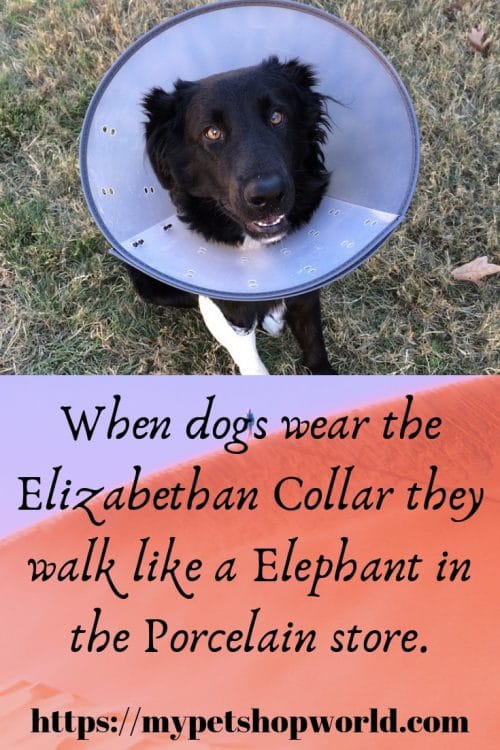 What is the Buster Collar or the Cone of Shame?
It is the traditional Elizabethan Collar for Cats and Dogs. 
Many Pet parents of the four-leg species will or have come at some point in life across the Elizabethan collar or known by his nickname the Cone of shame, E- Collar for pets,  lampshade or pet radar dish." Over the years it got different names.  
The Elizabethan Collar has somehow a bad reputation from pet parents, social media and animals too.
Personally, for me I think, the Elizabethan collar is not only a burden and hassle of any cat or dog, but it is also a dangerous weapon for the pet to wear.
Pets become like Elephants in the Porcelain store.
Any Pet cat or dog walks around with the collar of shame walks literally like an elephant in a porcelain store. They knock everything over and throw all the things down what is in there way.
From my experience, they help but in these days where we are so developed something new should replace the old E- Collar. It brings so much unbalance into the life of a pet and his owner. Especially if you have more than one pet. Alternative Solutions
The Elizabethan Collar is not only uncomfortable for the cat or dog it is also bringing the heart of a pet owner to higher beats during the day. Said that it is stressful for both the pet and the pet owner.
What are those Elizabethan collars made for?
A general term for the this-this traditional plastic cone, which has many names keeps dogs and cats from turning their head or body to lick, chew or bite on surgical wounds, hot spots or injuries. Through licking, chewing and biting bacteria and infection can occur. The Elizabethan Collar prevents all this.  


When our dog a German Shephard by the name of Charly, had his Elizabethan collar around his neck I thought he will kill himself. Every time he walked around the house my heart jumped as when Charly walked up the stairs or down with the other dogs he slipped, tumbled and fall so many times, lots of things got broken because Charly could not see properly,  his peripheral view was blocked and Charly had no way of seeing where he was going. Alternate Solutions to the old Elizabethan Collar.
How long does my cat or dog need to wear this collar?
Depending on the injury the collars are worn normally until the wound has fully healed. Sometimes it only takes a few days and sometimes it can stretch on to a few weeks.
It is important that the Elizabethan Collar is worn or the alternative collars and it is important to follow the instructions of your Veterinarian.
When I bought the Bite Not Collar from Kong I was so happy and our Charly was relieved. It worked perfectly for Charly. This collar kept his incision safe from scratching while allowing him a full range of motion. It was such a relief for us and so much more comfortable than the Elizabethan Collar. 
I am sure I am not the only pet parent who hates that thing called the Elizabethan Collar or E- Collar.
Alternatives to the  Elizabethan Collar.
I tried a few collars in substitute for the "cone of shame", and I have to say the best one is for both cats and dogs the Bite not collar from Kong.
I will list below a few other alternatives, and I guess every pet owner has to find out what suits there pet best.
All the benefits of the Bite not Pet Collar from Kong 
Bite Not Collars are for me an excellent alternative to the old traditional Elizabethan collar for dogs and cats. 
What I love most about it, ( my pets don't) is that it does not hinder the pets in their peripheral vision and makes them unstable. In honest opinion, I am sure they are still uncomfortable for an animal but not as painful as the Buster collar.
I know my Vet always rolls the eyes when I talk to him about an alternative to the Elizabethan Collar for Cats and Elizabethan Collar for Dogs. ( It is the same for humans the cervical collar or neck brace we do not like it, but it fulfils the need)
Vision and Movement
It allows your pet to eat, drink, sleep and play while protecting the back, base of the tail, rump, flanks, abdomen, chest, the feet in small breeds and the genitals.
One thing you have to be aware of is that this collar does not protect eyes and ears.
Material and Size
The bite not pet collar from Kongs is made of flexible plastic and foam, the best thing they are washable in the washing machine. That keeps the bite not collar clean and sanitary.
The bite not pet collar from Kong is the only cervical restraint with a harness strap, what that means is it stays on. The only thing you have to do is take the correct measurement when you choose the size. One point you have to remember is that the collar must stretch from behind the animal's ear to the top of the shoulder for maximum protection.
Features of the Bite Not Collar
Provides unimpeded peripheral vision

An excellent alternative to the traditional Elizabethan collar

Protects back, rump, the base of tail, flanks, chest, abdomen, and genitals (feet in small breeds)

Cervical restraint with a harness strap
Item Specifications and how should you measure your pet correctly.
While your dog is standing, measure from the base of the ear to the top of the shoulder blade. This measurement will give you the desired width and size of the collar. For example, if you measure 6″, you will need a size 6.
Bite Not Collar Size's for Dogs ( measured in pounds)
Size 3.5″: for dogs under 10 lb. (i.e. toy poodle)
Size 4″: for dogs 10-17 lb. (i.e. Bichon, Shih Tzu)
Size 5″: for dogs 18-30 lb. (i.e. Spaniels, Terriers)
Size 5L": for dogs 31-45 lb. (i.e. Chow, Pit Bull)
Size 6″: for dogs 46-70 lb. (i.e. Labrador, Golden Retriever)
Size 7″: for dogs 71-100 lb. (i.e. Rottweiler)
Size 8″: for dogs 101-140 lb. (i.e. Bullmastiff)
Bite Not Collar Size's for Cats ( measured in pounds)
Size 2.5″: for cats under 10 lb.
Size 3″: for cats over 10 lb.
Recommended Use:
When choosing the size, the collar must stretch from behind the animal's ear to the top of its shoulder for maximum protection.
Reminder
Even this collar is 100 times better than the cone.
Remember to measure the neck area, when the collar is too small, it will be ineffective, and if it is too large, it feels uncomfortable for your pet.
Different alternatives for the Elizabethan Collar
The Pillow collars for( Pets Kong Cloud Dog Collar. )
They do the same as the E- Collars and they fit around the neck of your pet, they are made from fabric and are inflatable. Come in different sizes.
Pro: Look better than the Elizabethan Collar and are more comfortable. Can be washed.
Con: You need to measure and make sure they fit correctly as if they do not fit your pet still can turn its body and chew, lick or bite the wound. 
Sizes:
X-Small: neck circumference up to 6″
Small: neck circumference 6″ – 10″
Medium: neck circumference 10″ – 13″
Large: neck circumference 13″ – 18″
X-Large: neck circumference 18″ and up
They are primarily padded collars.
Pro: They are more attractive and comfortable for any pet. Pets have a peripheral vision while wearing it. Safe, Padded edges make it comfortable to wear.  Lightweight and adjustable, 
Cons: To avoid the dog or cat is turning the body around and bite the rings must be larger in diameter.
Not recommended for pets that are left alone overnight or during the day time. It is uncomfortable for the pets to lie down.
Those are made of fabric or cloth and are easy to collapse with bigger dogs. I tried this one, and it did not last 3 hours.
Pro: Comfortable and they look better.
Cons: Those are not so solid, and they collapse too quickly. It gives them the opportunity to the pet for scratching, licking, biting and chewing the wound if not supervised.
Every alternative to the traditional plastic cone you have to keep in mind that they are more expensive than the Elizabethan collar.
Choose the best for your pet.
Not all alternative to the Elizabethan Collar will work for your pet. Experts still believe that a pet will get used to it as it gives reliable protection. I do not agree on that, different pets react differently, and in this time and age, there should be a solution to solve specific issues. Not every cat, dog and pet owner can handle the traditional Elizabethan Collar and some pets just shut down and get worse instead of getting better.
Conclusion
If a pet is injured and you need to use the traditional Elizabethan Collar look for alternatives as it is not a comfortable solution for you and your pet. I love our fur babies and want them in the time they are sick to give them as much comfort and support as much as  I can.
Any Veterinarian usually is open for suggestions and if you don't know how to measure the Bite Not Collar from Kong ask your veterinarian for help. It is in his and your interest to make the alternative collars fit, to avoid the scratching, biting, chewing and licking of the wound. You do not want to take any chance. The lampshade is really a pain for both you and your pet. It is too big and uncomfortable. 
Thanks for stopping by, do you have an alternative for the Elizabethan Collar for Dogs and Cats. If so let us know and share your experience.
All Yours
Melanie
How to stop your puppy mouthing. This can lead to a serious problem when not stopped at an early age from your dog.
What is the reason that dogs behave aggressively towards each other!