Woman Finds a Burnt, Cut-Up Black Cat Inside a Bag on Halloween.
Halloween is near, and we hear lots of stories or Myths about Halloween Black Cats.
Read this story from Peta.org. 
A Sacramento, California, woman looked out her window to see three teens messing around with a bag. Inside, she reportedly found a mutilated, sickly-looking black cat. She rushed the suffering animal to the vet, but the injuries were too severe, and the cat had to be euthanized.
( original story CBS news Sacramento) 
What is the reason why black cats are associated with Halloween?
In Europe, black cats are still considered bringers of good and bad luck.
Black cats are considered bad luck in Spain, Italy, France, and the eastern countries. They believe that going near them, especially on Halloween, you will be cursed with bad luck. 
Black Cats are a symbol of good luck.
In Japan, Black Cats are considered to bring good luck. In  Egypt, black cats were worshipped, and in the British Islands, black cats are considered good luck for the household that owns the black cat. 
Even black cats have been worshipped in ancient Egypt; the mythological foothold is worldwide. But their original connection with
Halloween
started around 2000 years ago among the Celtic Tribes based around Ireland. 
Halloween Black Cats. The Myth of the Truth. 
Many shelters close adoption for black cats and black dogs around Halloween time. You never know what can happen to black cats and dogs on Halloween.
That said, in some Asian countries, lots of black dogs and cats are not adopted because of the belief they are evil and are a bad omen. But also being suspected of being the familiars of witches or shape-shifting witches themselves.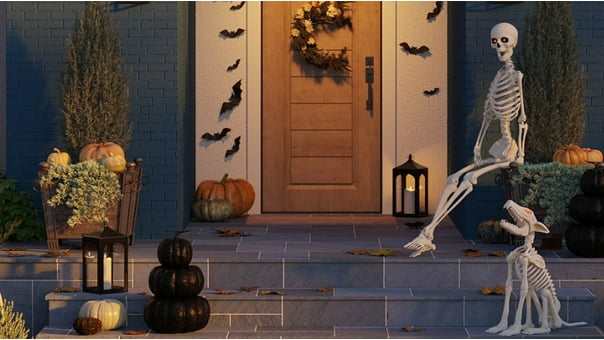 Everything you need on Halloween shop here, costumes, Outdoor Deco, Candy, a.s.o
Witches Black Cats and Sorcery. 
When did black Cats become a bringer of bad luck in the United States? 
It all came with the Pilgrims in the Plymouth Colony.  Puritan Pilgrims did not trust anything and anyone associated with sorcery and witches, including the black cats.  
The Pilgrims actively persecuted black cats.
Burning black cats on Shrove Tuesday became a practice to protect the home from fire.
Anti Witch zeal had subsided in the Colonies. Black cats had indeed been thoroughly cemented in the legend alongside the witches. 
 Decorators use them as a Halloween symbol alongside witches and independently to add a frightful, unnerving ambience to their front steps, their green eyes spooking trick-or-treaters.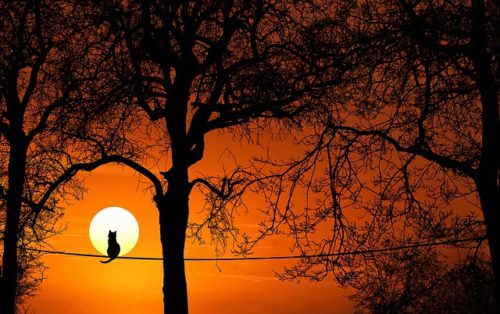 Halloween Black Cats. The Holiday Spirit.
If you are in the Holiday Spirit, consider adopting a black cat from an animal shelter or rescue service.
Due to superstition, black cats are less likely to be adopted from a shelter or service. By adopting a black cat, you rescue an animal who may not find a loving home and a loving owner. 
Be aware that some shelters will not accept adopting black cats before Halloween. The reason is some owners have been known to use the black cats as "living decorations" before abandoning them. It sounds so cruel, and if you are a cat lover, your heart is bleeding hearing this.  
My advice to you…
If you own a black Cat, keep your Cat inside on Halloween.
When you have a black cat, or a black dog, people, do stupid things to those animals during Halloween.
I heard and read endless stories about the poor cats and dogs who got mistreated by teens for fun or just people who believe in these superstitions. Many people say it is a myth, but according to Peta.org, it is not.  
If you like this article, Halloween black cats, please share and join us on Facebook.