What is Cushing disease in Dogs?
When you get told first time by your veterinarian that a dog that is only 5 years old has Cushing's disease. You go what is that. You think you misunderstood.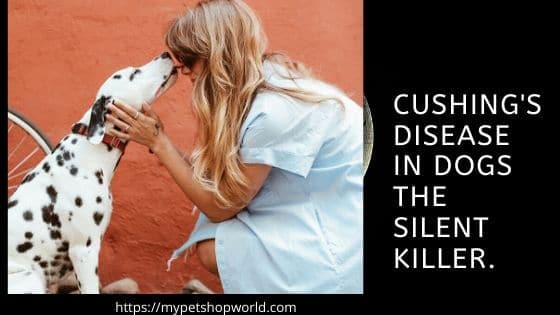 Learning from experience it is more common than you think. Cushing's disease in dogs is common but hard to detect and most of the time it goes undetected.
Our dog Charly is five years old and was diagnosed to have Cushing's Disease after endless expensive tests. 
When our vet explained it to me, it sounded a bit strange, and I could not grasp the meaning of it. I went on to Google to search for it. Surprise it is more common than I thought.
Our dog has all the symptoms. Saying this despite having all the symptoms of Cushing disease it is difficult to detect especially if the dog is older most of the time it is taken back to old age.
Cushing's disease a disease that is extremely difficult to nail down as the symptoms of Cushing's syndrome associated with some different ailments.
Vet Bills are expensive, that you still can give the best care for your pet chose a pet insurance. 
What are the specific warning signs for older dogs that they have Cushing's disease?
The adrenal gland, located in the dog's belly near the kidneys, produces a hormone called cortisol. This hormone cortisol affects many functions of different organs in the body.
In short, the Cushing's disease in dogs otherwise knows as hyperadrenocorticism is the overproduction of cortisol, and is a condition that becomes increasingly likely as your dog ages.
If there is too much cortisol in a dogs body, it can cause problems like stress and possibly suppresses the immune system of a dog. When an immune system is weak, it will increase the chance that the dog is prone to get sick easier.
To diagnose the Cushings disease is a bit complicated and it can be a challenge.
Download our free ebook " For the love of dogs " click here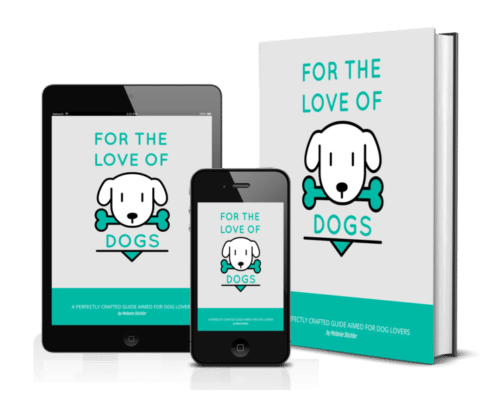 How often should I see the veterinarian with my dog? 
Early detection is crucial.
What are the symptoms of the Cushing disease?
@ A Thirsty Dog that drinks more than usual.
@ Urinate more often than usual
@ Lack of energy
@ gains more weight special around the belly
@ The skin becomes thinner and the coat is not shiny anymore. The fur looks patchy
@ Easy bruising on the skin
@Heavy panting
@Black-heads formation
@ Around back end there is a muscle wastage
@Reoccurence of Infections
The problem of the Cushings Disease
One of the most significant issues the Cushings disease brings is that it is difficult to detect. That is why it is also called the pretender. Many times this Cushing disease is misdiagnosed.
To be sure there is some test and those that are not cheap.
This test is expensive, and you are now in the questionable decision-making process to do or not to do the test.
It is not an easy decision.
The Cushing disease is a severe condition of the middle-aged to older dogs. Sometimes it is also misleading and over-diagnosed.
A variety of simulation tests are available and can confirm a suspicion of Cushing disease. Depending on the test chosen it may also indicate if the pituitary gland is the cause of the adrenal gland.
What Test is there to find out if your Dog has the Cushing Disease?
Those tests are:
#The ACTH (adrenocorticotrophic hormone) test
#Low dose dexamethasone stimulation test
#High dose dexamethasone stimulation test
#Most clinics start with an ACTH stimulation test to get an answer of yes or no. ( This information comes from our vet after having a thousand question. Thank you, Dr Dreyer, for explaining the basic in a more straightforward language.)
After that, the vet will discuss with you further test or further steps to take.
Treatment For Cushing's Disease In Dogs
There is readily available Treatment, but it is a question of yes or no, as the treatment is costly in the long run. You have to weigh several factors, and one of the more significant factors is the expense.
With Cushing disease, there is not always a clear way of right or wrong action. It is a hard decision for a dog owner to decide to go with therapy or not to go with treatment.
You have to make a decision based on your circumstances and your wallet. ( I am not joking it is not cheap) unless you have taken pet insurance. 
A veterinarian should thoroughly investigate Cushing Disease.
If that is a visible sign, the vet should also check for Thyroid problems and other skin conditions. Where the symptoms prevail but the diagnosis is negative, "homoeopathic formic acid" has been helpful in restoring a shabby coat to health again. 
Click here for the pet plus membership plan. With a great discount. Save up to 72% Off Pet Medications, Free shipping, 24/7 Vet Access.
Thyroid problems are commonly mistaken for Cushing's disease.
Homoeopathic Thyroid 30c at one drop per day for three weeks can return thyroid levels to normal – recheck levels at this point.
Another factor about the Cushing disease is the cause of the overproduction of the adrenal gland. Not always but most of the times the excess production is caused by a benign tumour located in the pituitary gland. ( pituitary gland is stimulating the adrenals. )
Of the endocrine system, the pituitary gland is the boss. The primary function of the pituitary gland is the production of hormones which control the various endocrine glands in a dogsbody.
A tumour in one of the glands can cause overproduction of the corticosteroid hormones. It can be then the result of hair loss.( it is like overuse of steroid drugs that overuse can have the same reaction)
Sweating and weight loss ( even if your dog has a big appetite) increased intake of water, anaemia and listlessness are also symptoms of the Cushing's disease.
If Cushing's disease is diagnosed in the early stages, the homoeopathic remedies are an excellent option to consider. Please ask your Veterinarian about the homoeopathic remedies.
Cushing's Disease and the confusion with other diseases
Older dogs will have a lot of symptoms like Cushing's disease. It is difficult to diagnose as a lot of signs are universal to ageing symptoms in dogs.
What are the symptoms that can be mistaken for Cushing's disease
#Bloated belly is a sign of gastric torsion and gastric dilation; it can be fatal when untreated.
#Urinary incontinence and urinary tract infections are a sign of old age.
#Diabetes shows signs of increased thirst slow-healing wounds and those signs can easy associated with the Cushings disease.
#Hypothyroidism has similar patterns of hair loss can be misdiagnosed as Cushing's disease.
#Discuss this with your veterinarian as he will understand and will analyse the proper test and treatments.
Homoeopathic Pituitary
It is a historically made Remedy from the posterior lobe of the pituitary gland. It balances the action of the gland.
It is given in low potencies over an extended period. Consult your Veterinarian as he knows best how to tune the homoeopathic treatment.
Natural Herbs for Cushing's Disease
There are also a lot of herbs available and what are beneficial. I like natural medicine, but I have learned over the years that sometimes we need to combine medication and natural treatment to achieve the best result. Believe it or not, sometimes both can complement each other. To judge this, please ask your veterinarian and follow their instructions.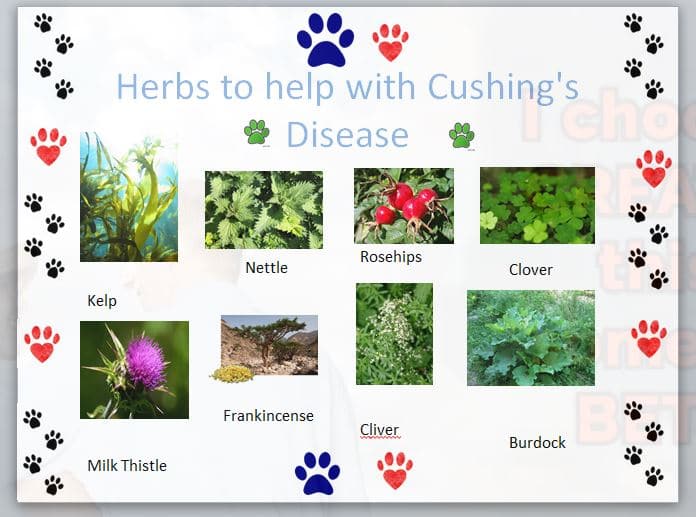 Natural-remedies-for-Cushing's-disease
If your animal is suffering from this condition and is on cortisone, and you wish to take it off of this drug and pursue an alternative treatment, you should find a holistic veterinarian that has experience with this condition.
Conclusion
Cushing's disease is a difficult disease to detect. It will be not easy for your dog and yourself when diagnosed with this Cushing's disease. 
One thing I have learned is that the Cushings disease can come out of the blue and a lot has to do with what you feed your dog.
I have written a blog on homemade dog food recipes and when I was looking for an alternative for my dogs I came across the "dog food secrets "and I was shocked what is actually in dog food.
Charly is much better now, and I have to say his condition improved a lot and yes I am feeding my dogs now homemade dog food.
Thank you for stopping by to read Cushing's Disease in Dogs. The silent killer for dogs and how to detect it early to prevent it. Please share this blog that people are aware of this disease. Sharing them helps us to understand them better and we are able to soothe their condition. 
All yours Melanie 
MyPetshopworld Disclaimer:
This website is not intended to replace professional consultation, diagnosis, or treatment by a licensed veterinarian. If you require any veterinary-related advice, contact your veterinarian promptly. Information at mypetshopworld.com  is exclusive of a general reference nature. Do not disregard veterinary advice or delay treatment as a result of accessing information at this site.