It is a great Invention that is not cheap but it comes with a smart phone app. The automatic self-cleaning cat litter box is the best thing for you and your cat.
Cats can be exceptionally tricky with managing a litterbox. But Waste management is essential to all pets. If you have cats, you know what I am talking about.
Litterboxes and Cats is a whole different subject.
Different Cat litter boxes are available, the traditional scoop-up ones and the ones with hoods. Such ones blend in with your furniture, and the tech ones automatic self-cleaning cat litter boxes.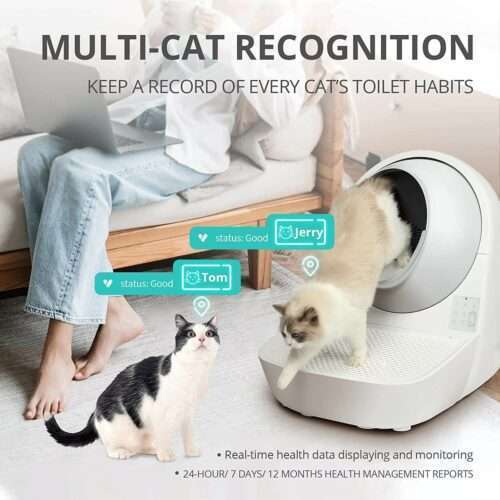 How many times did you step into the cat litter?
Some cats have the habit of dragging the cat litter Peebles outside the box. Other ones scratch so much that it shoots outside. Never mind, the cat litter outside the box is not a lot of fun. You will drag it through the whole house or home. Daily vacuum is a must. If you have the traditional one.

Managing your Cat's Litter Box. How often to clean the box.
It can be a real challenge to manage your cat's litter box. Sometimes I have to think and ask myself when was the last time I cleaned our cat's litterbox.
Only to realize that it was a couple of days ago. In my defiance, my cats roam outside from time to time, depending on the weather. 
My cats are not forgiving and make a lot of noise when the litterboxes needs to be cleaned. 
On the other hand, some cats might be more finicky. New cat owners might still need to learn about their cat's waste management, and it might result in kitty accidents and unhappy owners.
How many Automatic Self-Cleaning Cat Litter Boxes do you need for more than one Cat? 
For the automatic self-cleaning cat litter box only one as it is made for multiple cats.
The traditional one usually has one box per cat and one box per story. 
Example: In a two-story house with two cats, it is best to have one litterbox upstairs and one downstairs. 
If you have only one floor but 2 cats, then you should have two cat litter boxes on each end of the home. This is so that the cats will not disturb each other. 
What is the best Cat Litter Box for one or multiple cats ? 
That depends on your living situation and if you are a friend of cleaning the Cat Litter box regularly.
Hooded ones leave less mess, but some cats refuse to use them.
A large breed or overweight cat might need a larger litterbox,
If you have a messy kicker, you might do well with a taller box and only a thin layer of litter.
When you have kittens, they might have trouble going into the hooded box. They might need a smaller one for the beginning but later need to be changed to a bigger one.
For me the automatic self-cleaning cat litter box. I have ours since a year and don't wanna miss it.

The automatic self-cleaning cat litter box for multiple cats and with an app control. 
A great invention with a Tech part for us cat parents. It makes our lives so much easier. 
It is an excellent advantage for anyone, especially for younger cat owners who are expecting a baby or Cat owners who work the whole day outside the home. 
➤ Self-Cleaning litter boxes are much more sanitary.
We as Cat owners have the advantage of the automatic litter box that is more hygienic and easier to clean up than traditional boxes. 
With advanced technology, they sift through waste and debris without manual effort. 
➤ Effective Odor Control
The automatic self-cleaning litter box helps reduce odours and keeps your home smelling fresh while protecting your family from bacteria exposure and infection from bacteria found in traditional cat litter box reservoirs. 
Although these boxes might be slightly more expensive than traditional litter boxes, their ability to ensure complete sanitization gives them a huge advantage over manual cleaning.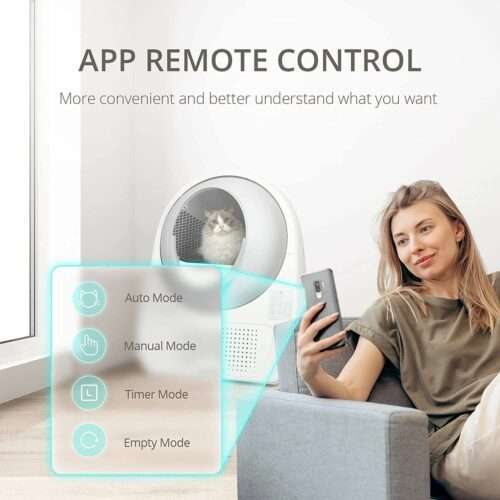 ➤ An excellent solution for a multiple-cat household. Saves you money on multiple cat litter boxes 
➤ A compatible smartphone app that offers quick and intuitive control over many features like switching the cleaning cycle
➤ You will use less Cat litter (an environment-friendly solution and saves you money) 
➤ Saves your time and thinking of cleaning the box when you are busy. Cleaning the automatic litter box needs only minimal maintenance. 
➤ Protects your whole family.
Severe exposure to cat poop might lead to the transmission of Toxoplasmosis, which is caused by the parasite Toxoplasma gondii.
➤ Your cat will enjoy the benefit of having a clean litterbox every day. 
A dirty litter box can cause Feline Urethral Obstruction (FUO). This painful condition could lead to kidney blockage, a life-threatening condition in cats. 
What are the Features of the Automatic Self-Cleaning Cat Litter Box?
➤ 13L Ultra-Large Trash Box
Large capacity trash box means no scooping, cleaning or refilling the cat's litter box for a few weeks.
The trash box contains an activated carbon cotton filter which can absorb the unpleasant odour. 
Highly suitable for carefree travel and usual on-trip pet parents
➤ Multi-Cat Recognition & Real-Time Health Status
The era of the multi-cat identification smart self-cleaning litter box has arrived! It will record each cat's toilet habits, and the best part is that multiple cats can be individually identified and recorded; even when you are travelling, working or on your way home, you can open the app to get your cat's 24 hours/7 days/12 months health management report at any time!

➤ 4 Intelligent Modes & APP Remote Control 
The litter boxes for large cats have 4 modes: manual mode, automatic mode, emptying mode and timer mode. 
These modes can be controlled remotely through APP. Choose any mode you need, clean, and solve all cleaning problems with one click-through APP.
It can realize travel or business trip for 21 days without shoveling, cleaning and refilling the litter box, providing a clean and comfortable living environment for cats at all times.
 ➤ Intelligent Safety Protection Technology
1. The High-Precision Gravity Sensor automatically senses the cat's position in all directions.
 2. Double Anti-pinch Design is the second safety step. If a cat is suspected of being caught during operation, the machine will immediately stop running;
3. Intelligent Anti-Blocking Protection is an ingenious self-rescue protection. Don't worry if the kitten accidentally falls into the trash box. The door of the trash box adopts a non-sealed grid design to maintain air circulation at all times. 
4. At this time, the fourth security step will be automatically activated. The APP will be a Real-time Push of APP Exception Messages, and you can take immediate countermeasures.

➤ Easy to Disassemble and Wash 
It is easy to install and disassemble without tools.
 Removable filters can be washed and installed every day according to your needs. There is more interior space available for the convenience of washing.
 ➤ 360 Degree Microwave Radar Detection
Scientific and Efficient Technology always keeps the self-cleaning litter box as clean as ever. In addition, using innovative "human body microwave radar" technology, there is no dead-angle stereo sensing, and it is not affected by environmental influences, dust, and temperature. It has a wider angle and stronger anti-interference than "infrared sensing."
➤ Customer Service & Free Replacement
1-year guarantee for this product. 
➤ NOTE: Not Applicable to cats under four months of age or weighing more than 10kg.
My recommendation: 
 I stayed with this automatic self-cleaning cat litter box. It is easy to assemble, and the smart app on your phone is easy to use. 
My review :
Good value for the money:  
For deep cleaning: 
Is it easy to use :
How Easy is it to clean: