Finding the Right Shampoo for Your Dog's Bath Time.
When you own a dog part of being a responsible dog owner is ensuring that your dog is clean and healthy.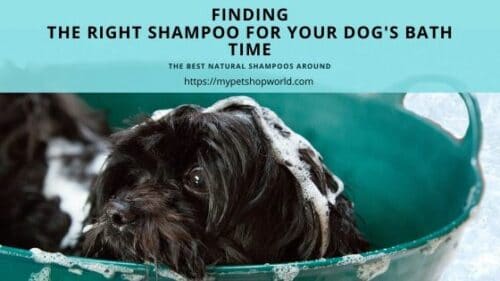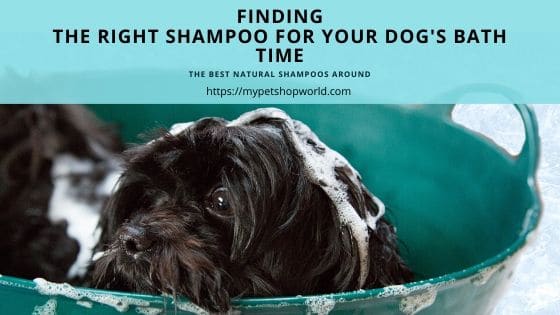 Dogs are dogs. What kind of dog do you have? A dog who loves the water and taking a bath is fun, a dog who jumps in every little puddle, or do you have a dog who hates the water and giving him a bath is a nightmare.
Dogs are normally easy to bathe and groom.
Bath time is a necessity for any dog.
When you do not take care of your dog and that means not giving your dog a bath on a regular basis will lead to fleas and your dog will have an unpleasant odour.
Bath time for your dog should be monthly, and it can be made fun for you and your dog. Don't see it as a chore.
Bath time strengthen the bond between you and your dog.
There is a wide range of products available and out of the experience I go for the natural ones with less or no chemicals in them.
Can I use human shampoo for my dog?
NO. Do NOT use human shampoo to wash your dog.
One thing is important and you should take into consideration when buying a dog shampoo.
In general, buy a dog shampoo that has fewer chemical ingredients in it. The choice is endless. Scroll down you will find 5 of the best dog shampoos for your dog.
What is the Right Dog Shampoo for my puppy?
When you have a puppy, it is a must for the well-being of your puppy to stay away from dog shampoo with artificial ingredients.
Puppies are so much more susceptible to side effects, due their skin is more sensitive than that of fully grown dogs or senior dogs. Opt for shampoos that are certified organic.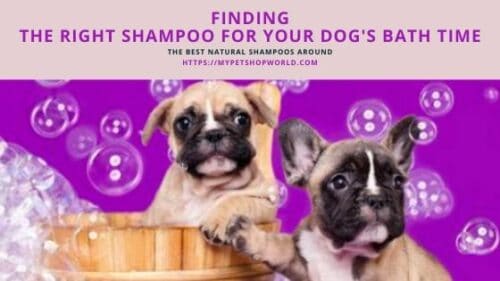 You can buy dog shampoo specially designed for puppies.
The ingredients differ from the ingredients of a fully grown adult or senior dog. If you must use artificial ingredients then please use puppy–specific shampoo.
Do NOT use human BABY Shampoo for puppies. There are pro and cons of using human baby shampoo on puppies.
What is the meaning of certified organic?
It means that the USDA has certified all the ingredients in the shampoo. What it also means is that the shampoo does not use chemicals for the plant-based ingredients.  
Organic Shampoos
The good thing about organic dog shampoos can be used on all dogs of any age. Puppies, Adult Dogs, and Senior dogs.
Most organic shampoos use natural fragrances, such as honey, lavender, rosemary, chamomile, and coconut are the most common fragrances.
You can choose plenty of different kinds of dog shampoos for every situation.
What is your Choice…
The hyper allergenic shampoo is for dogs who suffer from allergies and have sensitive skin, Labradors being particularly prone to sensitive skin compared to many other breeds.
Download our free ebook caring for your dog. Click Here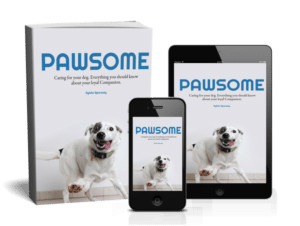 Heavy-duty shampoo for the stinky moments.
It sounds strange but this is for times when your dog is rolling in something particular smelly like animal excrement or perhaps some other stuff that is hard to get rid of the smell.
Just normal shampoo will not do as it will not get your dog clean from the smell. A piece of good advice is to keep a heavy-duty shampoo handy when you have a dog who loves to explore, get dirty and smelly.
Here are some of the best 4 Dog Shampoos recommendation.
The best all-natural, Organic Dog Shampoos.
Those dog shampoos have only natural ingredients and they are suitable as a general shampoo for most dog breeds. Gentle but highly effective.
Earthbath® Oatmeal & Aloe Pet Shampoo or Vanilla & Almond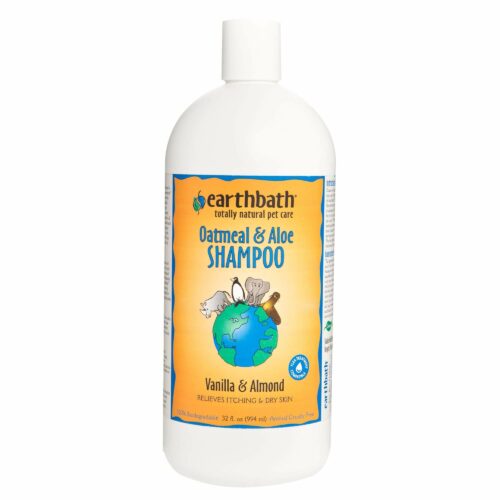 The Earth bath Brand is a well-known brand for its totally natural dog care product line. Those products are carefully and intelligently formulated to get your dog clean.
This bottle is available in 16oz and 32 oz. Click here
Ingredients:
No irritating substances in this shampoo, which is good for dogs with sensitive skin.
Important to note is, that there are no phosphates, synthetic dyes, perfumes, gluten DEA, enzymes, parabens or SLS/SLES in this shampoo.
SLS is sodium lauryl sulfate (SLS) and sodium Laureth sulfate (SLES).
Earth bath specially formulated this Oatmeal & Aloe itch relief shampoo to address the needs of pets with dry, itchy skin. Oatmeal (3%) and organic aloe Vera combat skin irritation, promote healing, and re-moisturize sensitive, dry skin. This luxurious shampoo is natural, soap-free and pH-balanced to clean and deodorize safely and thoroughly, leaving your pet's coat and skin brilliantly clean, soft, plush and smelling better than ever before..
Pros:
Made of natural ingredients
Is free of SLS and SLES
It is biodegradable
Moisturizes the skin and fur of your dog
PH Balanced
It is gentle and no tears
Vanilla and Almond leave a pleasant scent
It lathers easily
Recommended from vets
Makes the coat of your dog shiny and soft
Made in the USA
Cons:
Not usable as a heavy-duty shampoo
Not the cheapest
Not everyone likes the scent of vanilla and Almond
It is a shampoo without conditioner
Why do I  recommend the Earth bath brands?
Because all the ingredients are natural and gentle that helps your dog and helps you to feel good that you have made the right choice.
TropiClean Deep Cleansing Berry & Coconut Pet Shampoo.
TropiClean Berry & Coconut Pet Shampoo cleans your pet, even after the messiest of adventures. Click here to purchase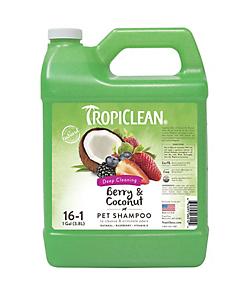 TropiClean Berry&Coconut unique formulation is designed to clean the dirtiest pets while creating a shiny, luxurious, soft huggable coat.
Natural protein and raspberry extract replenish the natural moisture balance of the skin and coat.
Pros:
Skin and Coat friendly
Made in the USA
No preservatives
Smells great but not overwhelming
Keeps your dog clean
Rinses quickly and easily
Lather down to the skin,
It is gentle enough not to wash off flea & tick products
Formulated without harsh soaps and detergents
Packaging is biodegradable
Cons:
It comes only in one size
Smells so good that you would love to wash your dog every day
Sometimes out of stock due to high demand
Item Specifications:
Size:
1 Gallon – 16:1 Concentrate
Ingredients:
Purified water, mild coconut cleanser, Avena sativa oatmeal, organic blend of (raspberry extract, pomegranate extract, strawberry extract, blueberry extract, mango extract), hydrolyzed plant protein, fragrance, vitamin E
Why do I recommend this product? Our groomers using it and it works on many different dog breeds.
It is a 2-in-1 Shampoo and Conditioner keeps what it promise.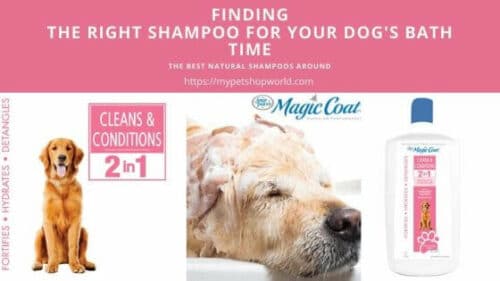 It is enriched with proteins and helps detangle knots and mats. The special paraben-free formula also fortifies and hydrates while leaving your dog's coat with a fresh calming waters scent. Click here to purchase
Pros:
Cleans and conditions the coat all in one
Detangling dog shampoo helps loosen knots and mats
Enriched with proteins
The paraben-free formula fortifies and hydrates the coat
Fresh calming waters scent
Dog shampoo and conditioner made in the USA
Easy to use
Leaves the coat soft and shiny
Suitable for different dog breeds
Made in the USA
35% off for your first order click here repeat order available
Cons:
Not everyone likes the scent
The larger bottle is difficult to handle when you bathe your dog
NaturVet Hemp Shampoo & Conditioner for dogs gently cleanses, deodorizes, and conditions simultaneously making bath time quicker and easier. Your pet's coat will be left feeling soft, hydrated, and healthy. Lemon Verbena provides a fresh, clean scent. Click here to purchase
Pros:
Helps with dry and sensitive skin
Makes the coat shiny
The 2-in-1 soothing, synergistic blend of Hemp Seed Oil, Argan Oil, Coconut Oil, and Aloe Vera
Shampoo & Conditioner 2-in-1
Lemon Verbena fragrance
Smells fresh and not overwhelming
Replenish the natural moisture balance of your pet's skin & coat
Suitable for different dog breeds
Sulfate & Paraben Free
Made in the USA
35% off for your first order click here repeat order available
Cons:
Available in only one size
Not cheap
Not everyone likes the smell
Why I recommend NaturVet Hemp Shampoo & Conditioner, my sister uses it for her border collie and the coat of her dog look really good.  Her dog had a long time skin problems and since she uses the shampoo they are gone. 
Choosing the right dog shampoo is always a trial and error in the beginning.
It is perfectly ok to try a few different brands and dog shampoo and everyone has to decide for themselves if they like the 2 in 1 or they just like the Shampoo and conditioner separate. 
I hope you enjoyed reading our blog
"Finding the Right Dog Shampoo for Your Dog's Bath Time. Organic, Natural DIY or Standard?"
Please share and like our page. Join our Facebook page 
All yours Melanie