When your Dog gets choked by his Dog Collar, your dog starts to panic.
3 weeks ago I had the scariest moment in my life. I will not forget it so fast. When I think back, I still have the picture of my dog totally in panic in my mind.
My friend Sally came over 3 weeks ago, with her dogs and of course for a cup of coffee. We thought it will be a nice and quiet time, boy have we been wrong it was one of the scariest times in my life.
Sally is my friend, and she comes over on a regular base, our Dog's love to play with each other on a weekly base. Her dogs and our dogs are friends, especially Charly and Sammy. Although both dogs are different in size and breed somehow, those two have formed a special bond.
Playtime with Dogs.
As always Charly and Sammy play together out in the garden, I nearly choked on my piece of cake when I heart this howl of pain and panic from Charly or was it, Sammy?
My heart stopped for a moment, and we ran into the garden, and there were Charly and Sammy stuck together. It took me a while to understand that Charly caught his teeth in the Collar of Sammy.
My friend and tried to separate them but it was impossible, I ran inside the house and got a scissor. Sally was trying to keep Charly calm and remove his stuck teeth.
I tried to cut the Collar, and it was not easy, as I was worry, I will stab one of the dogs with the scissors. Did not have blunt scissors I used the normal scissors. ( the next day I went and bought blunt scissors.)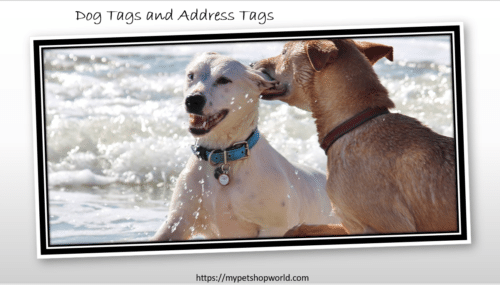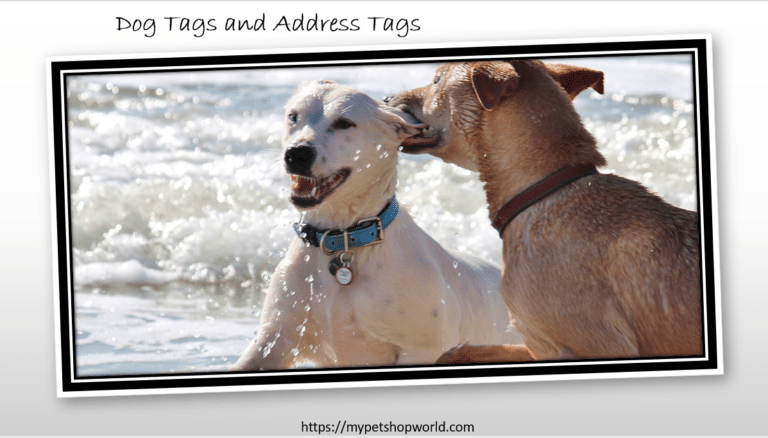 Lucky for us, it was a nylon collar, and it was not difficult to cut the Collar of Sammy. After the dogs were safe, and we could then attend to their emotional condition.
Both dogs were whining and shaking. Lucky both dogs did not blame the other Dog and hold a grudge towards each other. Charly and Sammy are still friends.
We went with both dogs to the Vet to see if Charly has injured his mouth or his teeth.
Both dogs are fine, and none of them had injuries or needed medical care. The Vet said both dogs are a bit bruised but nothing serious.
When should a dog wear a dog collar?
My dogs do not wear a collar when they are at home with us. I know it is a must in some countries as the dog tags are on the Collar and by law, dogs must wear them all the time.
On the other hand, dog collars are helpful to dogs in many ways, but they can also pose dangers.
Some dog collars that are available on the market are dangerous to dogs. For example, the choke collars, I believe it is such a cruel invention, and for me, it makes dogs aggressive. On the other hand, Dog collars are useful.
Dog Collars ID Tag and Owners Address.
A lot of dog collars have the dog tag attached, and for that reason, a lot of dogs have been safely returned to their owner when they got lost.
Dog Collars allow people to control the Dog with or without a leash.
Most Dog owners hold on to their Dog through the dog collar.
Dog collars can be very stylish, but that doesn't mean they are practical and do not hurt your Dog.
Unfortunately, a dog collar is attached around the neck of a dog and therefore post a danger.
There are cases where dogs are injured, even fatally when a dog with his Collar got caught in things like heating vents, fences, crates, branches or other collars.
Most common accidents that I heard about is a dog's lower jaw getting stuck in the Collar during play and cause strangulation.
Dog Collars that can be dangerous to for your Dog.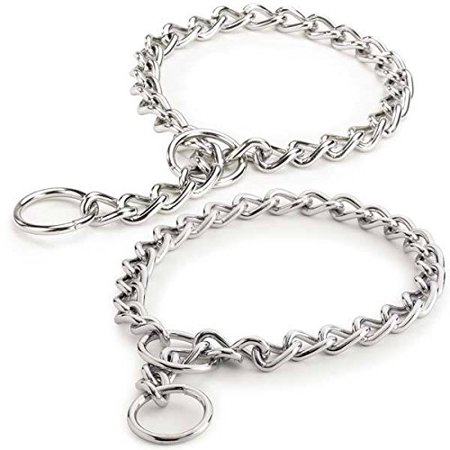 These collars can be extremely dangerous to your Dog. Those Choke collars are associated with following injuries.
# Crushing of the Trachea
# Fainting
# Spinal Cord Injuries
# Partial or complete asphyxiation
# Whiplash
# Paralysis
# Dislocation of the vertebrae in the neck
# Brain damage and prolapsed eyes caused by sharp increases in pressure in the head and other injuries.
# Bruising of the Oesophagus (The oesophagus is a muscular tube connecting the throat (pharynx) with the stomach. The oesophagus is about 8 inches long and lined by moist pink tissue called mucosa. The oesophagus runs behind the windpipe (trachea) and heart, and in front of the spine.)
Choke Collars can have psychological consequences for your Dog. If a dog is frequently choked with a choke collar, he probably becomes frightened or aggressive.  
Experienced Dog Trainers might see it differently, but using choke collars should not be a permanent solution. When you use a choke collar, ask a certified dog trainer for the proper usage.
Prong Collars
A prong collar mimics the instinctive communication tool between dogs. The metal spikes around a prong collar pinch the skin around dogs' necks when they pull and can scratch or puncture them.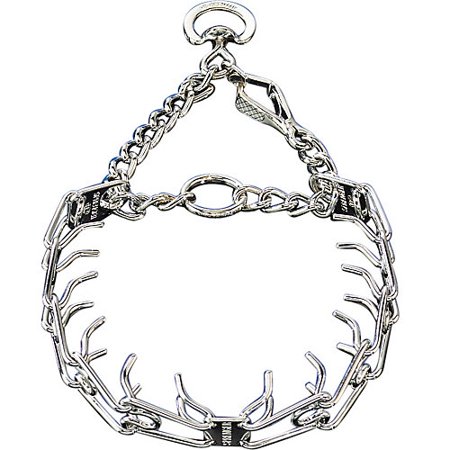 A prong collar mimics the instinctive communication tool between dogs. The metal spikes around a prong collar pinch the skin around dogs' necks when they pull and can scratch or puncture them.
When dogs play with each other, they do bite each other's ears, neck skin or other parts of the dog body. There is no blood, no fight, no puncture holes afterwards.
Somehow dogs do communicate with each other even it involves teeth to the skin. Those bites are not in any case used to cause injury or harm to the other Dog. It is just a way of saying listen to me.
Mother dogs teach their puppies submission. That is the same what a prong collar supposed to do.
Said that you have to know how to use a prong collar, it needs the right adjustment and professional help when you do not want to injure your Dog.
Over time, this can cause dogs to develop scar tissue (which has no feeling) and build up a tolerance to the painful pinching sensation and thus continue to pull, making walks even more difficult.
My advise when you use a Prong collar, get professional help and understand how to use it.
Buckle Collars, there are plenty on the market, but which one is the right one for you?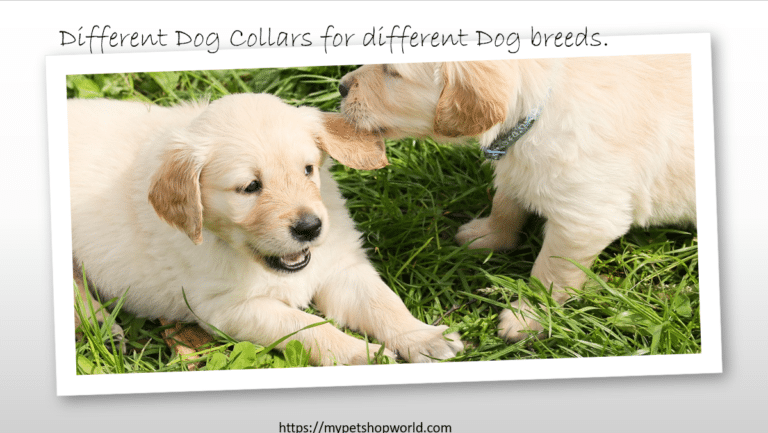 Dog Collars are a great idea to hold the Dog's ID and the Dog Tag.
I would not use a dog collar when I walk my dogs. I do not like to pull my Dog on their neck if it is necessary, it can cause injury too.
When a dog is leashed by the neck even with a simple buckle collar, it can be painful to a dog, when the Dog pulls or lunge.
It can put pressure on the trachea, the spinal cords, the oesophagus and the vertebral discs.
Dog Harness a solution to the Dog Collar.
If you walk your Dog for his safety and comfort using a harness. It alleviates any pressure on the neck, and a dog harness makes it easier to pull dogs out of any trouble they might get in.
There are lots of harnesses to choose from.
If your dog is walking with you, instead you walking with the Dog, then you should consider dog training. Teach your Dog How to walk heel. It is fun for you and your Dog.
The Trainer Harness is made for dogs who pull a lot. It has a front leash attachment that helps to redirect a lunging dog back to you.
Another great benefit is that it is comfortable for your Dog, and it helps even with strong pulling dogs without doing any harm.
If your Dog enjoys the walks with you and is listening to you, then you can use any harness that is safe, suitable and comfortable for your Dog.
Since we had the incident the last time with Sammy and Charly, we let our dogs now play without collars.
When we go to the dog park, we take them off. But if we are not able to take them off, we will use the keep safe breakaway dog collar.  Those collars are available click here.
The KeepSafe Break-Away Collar has a safety buckle that releases when significant pressure is applied to them. The safety buckle has a D-ring on either side of it so the breakaway section can be by-passed for leash walks by attaching a leash to both D-rings.
I love the KeepSafe Break-Away Collar as it helps us as Pet Parents to protect our dogs, with a patented safety buckle that releases in an emergency. The KeepSafe Break-Away Collar is available in different sizes to fit any size of Dog.
A small piece of advice when you walk with your Dog and you use the standard buckle collar with the ID Tag and Address Tag, change to the KeepSafe Break-Away Collar.
Dog Park and other Dogs.
If you can not and you go to the dog park take a pocketknife or blunt scissors with you. In case your dog gets caught with his collar somewhere to cut off the dog collar. Be aware when you use a pocketknife in case of an emergency with the sharp knife you can injure your dog.
When you use a metal collar, then there is no use in having a scissor or pocketknife handy. Avoid metal collars when going to the dog park or when your dogs play with other dogs. As metal collars are difficult to be cut or detangled.
KeepSafe Break-Away Collar.
You have the option to buy the keep safe Breakaway Collar or also called quick-release collars.
Do your Dog and yourself a favour and avoid accidents like the one I had. Dogs like to play, and sometimes they do play a bit wilder. For your dog safety take off the Collar during playtime or get the KeepSafe Break-Away Collar for your Dog. Especially when you are in a country where a dog collar with Dog ID and Address is a must.
Designed to prevent dogs from getting entangled by their collars, the KeepSafe Break-Away Collar has a patented break-away safety buckle that releases when pressure is applied.
If your dog's collar gets stuck on something and starts to choke, the buckle releases and the collar falls off harmlessly. Most collar accidents happen when multiple dogs are playing at home, at the dog park, or in doggie daycare or when the collar gets stuck on a fence, deck, crate, kennel, vent, bush, or tree.
When you're ready for a walk, hook the leash clip around the 2 D-rings to prevent the buckle from breaking away.
Collar-related accidents are more common than you think. A survey of veterinarians, trainers, and doggie daycare professionals found that more than 50% of pet professionals have experienced a collar-related accident with a dog. Over 26,000 collar-related accidents occur each year – that's an average of 71 a day! The KeepSafe Break-Away Collar is the only collar that provides 24/7 protection for your dog.
Share this blog with family and friends and let us know if you have experienced playing dogs who get caught in the Collar of another dog.
All yours Melanie