Ticks and Dogs. The blood-sucking parasite is back.
I have wondered many times when I saw a tick or removed one from my dogs or cats how long a tick actually lives. Did you know that ticks actually belong to the so-called species of arachnids? The same category as spiders and scorpions.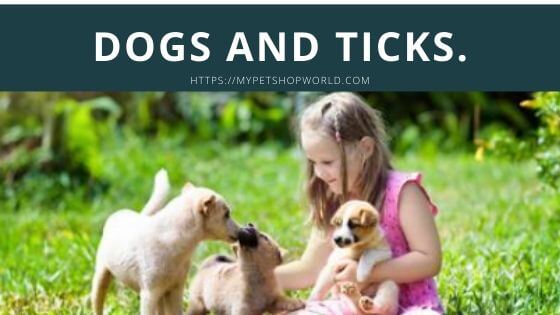 When you have Pets, you have seen that little parasite called Tick on your pet sucking the blood from your pet, until they are full and look like a small balloon then they fall off.
Do you know how long is a life cycle of a tick?
I have to admit I am uncomfortable with ticks. I do not understand why, but the fact is I do not like them at all. I do not like them on my pets.
Ticks have 4 stages in there Life Cycle.
Ticks are blood-sucking parasites that require a host animal to survive and reproduce.
They tend to live in tall grass, dense brush and wooded areas, so dogs and cats are common hosts for ticks.
Also, humans are hosts for ticks. Yes, you heard right, the tick from your dog can also feed on you.
Don't get me wrong ticks are not only dangerous to your dog or cat. It can also be harmful to you.
My Dog is sleeping in my bed.
These legs have receptors that can detect carbon dioxide. When a host passes nearby, the Tick senses it and reaches out its legs to attach itself to the host's fur or clothing.
Ticks can transmit a variety of infections and diseases.
The Tick embeds its mouth into the host's skin and begins feeding while feeding ticks can transmit a variety of infectious organisms to their hosts thereby transmitting diseases like Lyme disease and Rocky Mountain spotted fever.
After engorging on the host's blood the tick drops off and advances to its next life stage. Ticks have a four-stage life cycle …

Egg> Larvae> Nymph> Adult
The Larvae and nymph require a blood meal to move to the next stage.
An adult requires a blood meal to mate and reproduce.
A female tick can lay several thousand eggs.
Ticks are slow feeders and remain on a host for several days.
If you find a tick on your pet, remove it immediately to reduce the chance of contracting the disease.
In short, a tick can live unfed for around 24 hours. If on moist clothing like in a hamper 2-3 days.
When the ticks have taken a blood meal they may survive a bit longer but no longer than 30 days, as they would have to find another host or blood meal.
Larvae can survive 2-3 years due they do not need blood to survive.
There are different ways to prevent your dogs from attracting ticks.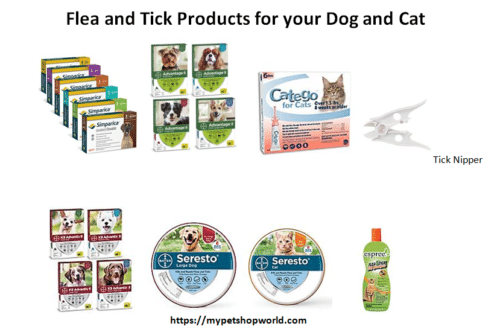 # Don't let him walk through high grass and dense bushes.
# Use flea and tick collars or other items like tick shampoos, tick drops, tick spray there is a large variety available.
If you go for the Flea and Tick collar, the only thing is that you need to make sure that your dog is not getting wet when he has the collar on, as he might have a skin reaction to the ingredients or chemicals in the collar.
Advice: Always look at the package when you buy a flea and tick collar that the collar is waterproof. A lot of collars are available in supermarkets but are not waterproof. Yes, they are cheap, but you also do not know what is in there.

There are also chewable available that you can feed your dog that creates a scent from the dog to avoid ticks attaching themselves to the dog.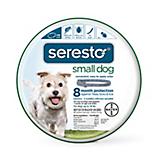 I love this collar for my dogs as it is waterproof. What is essential when you have dogs who love water and the outdoors.
Seresto Flea & Tick Collar for Large Dogs
The Flea and Tick Collar is easy to use. Just follow the instructions on the box.
The collar will work in an effective way to kill and repel fleas and ticks.
The innovative Sustained Release Technology offers odourless and non-greasy protection for up to eight months.
It begins to kill fleas within 24 hours and ticks within 48 hours of initial application.
The Seresto® Flea & Tick Collar is for large dogs and small dogs available. It is easy to use no-hassle, waterproof collar size.
It can be used by puppies seven weeks and older.
It kills deer ticks, American ticks,
brown ticks,
and Lone Star ticks,
as well as chewing lice.
The dual action protection provides a continuous release of two active ingredients:
Imidacloprid controls flea infestations,
while Flumethrin effectively repels and kills ticks.
The combination works like a monthly topical flea and tick treatment, yet is designed to release the ingredients in low concentrations for eight months slowly.
I love the Seresto Flea and Tick Collar with it's Special Safety Feature:
The collar is designed with a safety release mechanism, wherein in the unlikely event the dog is trapped, its own strength is sufficient to widen the collar and offer a quick release.
The collar is equipped with a predetermined breaking point, a hard pull triggers the breaking of the collar at this point.
Simparica Chewables are a safe monthly chewable for dogs that offer persistent protection from fleas and ticks.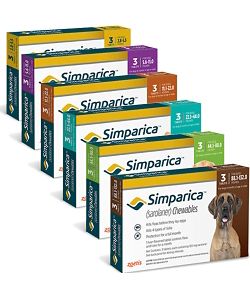 Simparica Chewable is a safe monthly chewable tablet for dogs that offer persistent protection from fleas and ticks.
Each easy-to-administer chewable contains 5mg of sarolaner and delivers fast and persistent protection over 35 days from fleas and ticks, without losing efficacy at the end of the month.
It starts killing fleas within three hours and ticks within eight hours. I have to say I prefer the flea and tick collars at least I do not forget to give them their chewable.
You will apply this once a month. It is a topical treatment for fleas and lice on dogs and puppies seven weeks, and older features a new formula with insect growth regulatory (IGR) to kill all life stages of fleas and contains Imidacloprid, which acts to disable a flea's nervous system.
You will apply this once a month. It is a topical treatment for fleas and lice on dogs and puppies seven weeks, and older features a new formula with insect growth regulatory (IGR) to kill all life stages of fleas and contains Imidacloprid, which acts to disable a flea's nervous system.
What does it do :
Kills all flea life stages,
preventing fleas on treated pets from infesting your home
Kills adult fleas already on a pet within 12 hours,
and re-infesting fleas within two hours
Waterproof
Fast and easy dermal application
Only one application a month necessary
Safe for puppies (7 weeks old) and dogs
There is a big range of products available click here to see more products.
Use tweezers to grasp the tick as close to the skin as possible.
Pull upward gently slowly and firmly do not twist jerk or pull hard or you may break off the mouth part leaving it in the skin where it can cause infections.
Be careful not to squeeze the body of the tick as it may contain infectious organisms.
Wash the bite area and apply an antiseptic then wash your hands with a disinfectant soap.
Save the tick for identification in case your dog or cat becomes ill.
But before you save the tick put her in a glass with Alcohol so the tick will die. Put the tick in a sealable plastic bag or a small plastic container seal it tight and place in your freezer. If your dog is ok then get rid of the tick.
Never squeeze a tick with your fingers.
Be sure to check your Dog or Cat daily for ticks.
Advise and the last word on Tick Prevention for your Dog.
The last word on ticks, I use the tick and flea collars but my dogs still have from time to time a tick. Not very often but it will happen. Those collars or whatever is available on the market will not prevent it 100%.
Whenever you find a tick on your pet remove it as soon as possible.
Ticks and Dogs is something we have to live with it.
Please like and share with friends my blogs. Please do me a favour when you click on the link
Tip: Check from time to time inside the house under the carpet edges and other places, like dirty cloth if there are ticks larvae or ticks.
If you have ticks in the house the best thing is to call pest control. It all depends on how many you have. How to get rid of ticks around the house.
Click here to shop for different Flea and Tick Prevention Products.
Thank you for taking the time to read this blog Ticks and Dogs.
All Yours
Melanie
This website is not intended to replace professional consultation, diagnosis, or treatment by a licensed veterinarian. If you require any veterinary-related advice, contact your veterinarian promptly. Information at mypetshopworld.com  is exclusive of a general reference nature. Do not disregard veterinary advice or delay treatment as a result of accessing information at this site.