My Cat has Hair Balls. Should I worry or is this normal.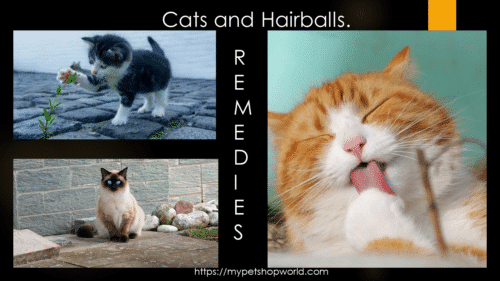 You are deep asleep, but there is this funny noise that wakes you up. The sound is like someone is choking.
Well, you have a head cinema in your head, and you get up to look at where the noise comes from.
As you just about to reach the stairs, you feel something warm and slimy on your foot. Yes, you stepped into something wet, warm and slimy. Oh no, you know you stepped into cat puke in the middle of the night.
Cat and Hairballs.
The first thing you know that your cat has hairballs when you see her vomiting, tube-shaped, wet food mixed with fur all over the floor. Yack, you know now it is time to do something about your Cat's hairballs.
What is the Cause of Hairballs in Cats?
When a cat is grooming herself, she will swallow the hairs. The hairs mix with saliva and then it will go down into your cats' stomach. There are two ways what happen to the hairs your cat swallowed.
Either it slides through to the intestines, and is disposed as poop in the cat litter box, or it takes up residence in your cats' stomach as a delectable food-infused furball.
When the hairball is caught in the stomach of your Cat and it does not go smoothly through the digestive tract, there is no other choice for your cat to vomit the hairball out.
Some cats are vomit an occasional hairball, but it should not be a frequent event.
Frequent vomiting in cats.
If your Cat is frequently vomiting, with or without hair, you might consider bringing your cat to the vet as she might have a health problem.
Other than vomiting Hairballs can be caught in the intestinal tract that is creating and obstruction like a cat hairball blockage.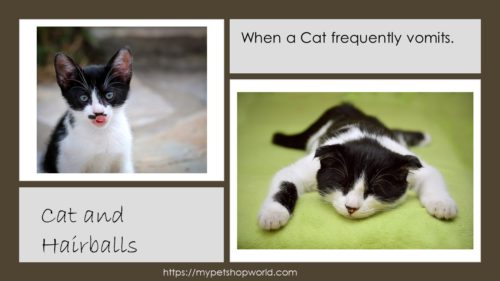 In association with frequent vomiting, two diseases have been associated with the symptoms. It is called inflammatory bowel disease, or intestinal lymphoma a type of cancer.
If your Cat is frequently vomiting, please see your Veterinarian for consultation.
I know a Hairball vomit is not nice to step into, but please consider it is much worse for your Cat.
Your Cat suffers during the vomiting, and she might have constipation, decreased appetite, coughing and dry heaves.
Feed a healthy diet to your Cat and use natural remedies to help her get rid of those hairballs.
What are the most common hairball remedies?
Commercial Hairball Remedies
Most commercial hairball treatments contain mineral oil or liquid petroleum.
A slippery substance that greases your Cat's digestive tract for an easy pass through.
Those substances are not natural. You can also buy cat food that has the hairball remedy inside the food.
You should be aware that those food and substances can interfere with your Cat's ability to absorb the essential vitamins necessary for her.
The best thing you can do and I can recommend is to look around in your garden or in a pet store there are plenty of natural resources available.
Why would you force your Cat to ingest chemical substances that can harm your Cat in the long run?
Natural Hairball Remedies
I love the natural solutions for Hairball remedies. Look around in your pet store and grocery shop there are easy to use and available.
Wheat Grass/ Cat Bamboo
Wheat Grass: You can buy the wheatgrass around the corner in the grocery shop. Or you can order online. Click here
Any Pet Store should also have them. Either already grown or in seeds and you can plant it yourself. You can also order it online here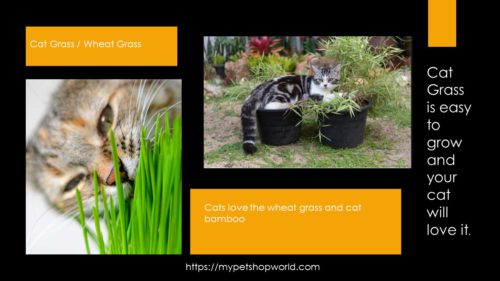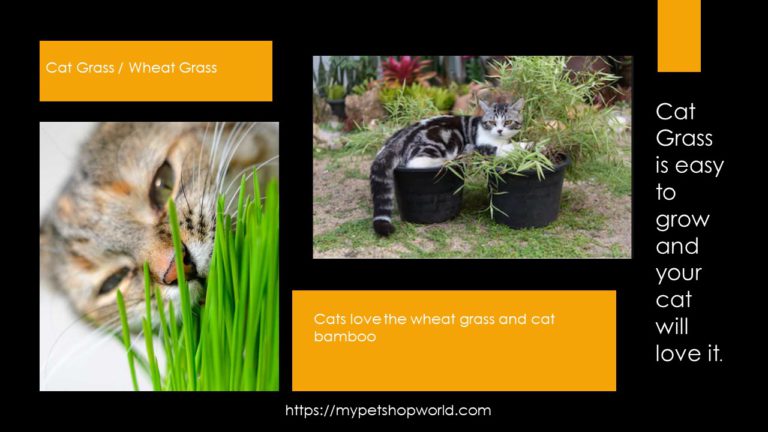 Cat Bamboo. You can buy them from any pet store, or plant nursery. My cats love the Cat Bamboo.
Your Cat will love nibbling on it, and when I put up the newly grown wheatgrass out, Minka our Tuxedo Cat is crazy about it.
What does the Wheat Grass or Cat Bamboo do for your Cat it provides the necessary roughage for the elimination of hairballs. Butter and Margarine an excellent Hairball remedy for your Cat. My Cat loves it.
Butter and Margarine a nice treat and good for Hairballs.
I feed my cats in the morning a small square 1x1cm of Butter or Margarine during the time I have breakfast. My Cats would not eat it any other time in the day, but at breakfast, it is a must we made it as a ritual.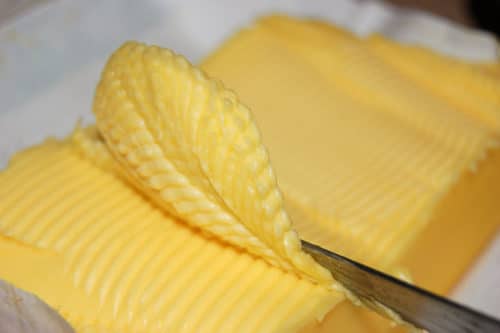 Of course, I have gourmet cats as they prefer the butter instead of the Margarine.
Butter and Margarine will lubricate the digestive system, any hairball trapped will have a smooth ride and end up in your cat litter box as poop.
Baby food Squash and Pumpkin
Some cats love the Baby Food Squash, and if this is not available to you or your cat does not like it, you can use canned pumpkin.
Make sure you use the non-salted and non-spiced version. ( this is important)
The fibre in the pumpkin or baby food squash will help your Cat with the digestive system. It creates healthy bacteria in the digestive tract and gives the hairball a smooth push through.
Brushing. A simple method and I do this every day with my cats.
Go to the pet store and purchase a brush for cats. A good soft one that takes out the underwool without hurting your cat.
Your Cat will love it to be brushed every day. At least mine does, and they do demand it each day at a particular time.
You will be surprised at how much underwool and hair I collect from my cats each day.
With the brushing, you eradicate the excess fur and hair that would otherwise end up in your Cat's stomach or digestive system.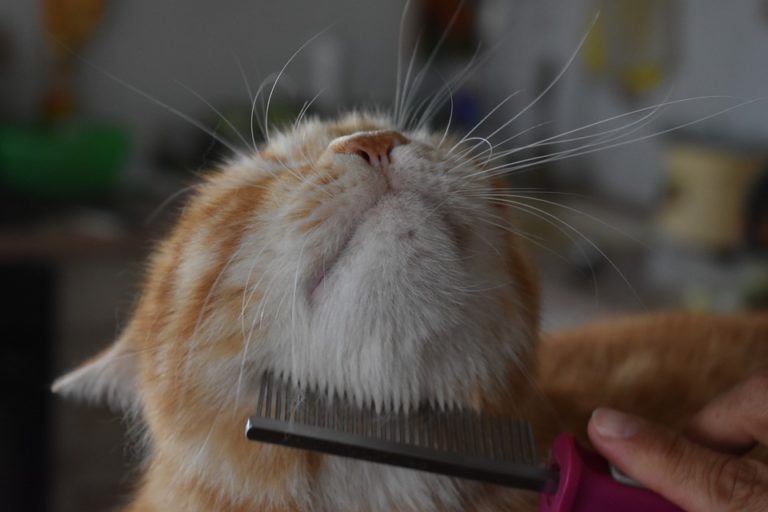 Grain-Free Diet.
My understanding is that cats are carnivores, and some cats are not used to eat grains.
A Cats diet consists typically of a high protein level and low carbohydrate level diet.
Grain-based food tends to have more carbohydrates than proteins. That leads to a change in the flora (bacteria) in the intestinal tract.
Those changes might change the motility in the digestive tract and contributes to the inability to pass hair generally through the intestinal tract.
My, advise on …Cat and Hairballs.
Don't take it easy and think it is ok for your Cat to vomit frequently. Hairballs can cause life-threatening nuisances and can quickly develop into an emergency.
Hairballs that grow to big or stay too long in the intestinal tract of your Cat are harmful to your Cat and can cause hairball blockage. That can end up in emergency surgery.
My Tip… Natural Remedies
Best Tip I can give you is experiment with different options and use it on your Cat. Your Kitty will be grateful and healthy.
The Solution that suits me. I have cat bamboo growing in a pot inside and outside the house. My cats have access to it whenever they feel like it. It is for me an easy and simple solution. As mention before my Cats are gourmet cats and have a square 1x1cm each morning.
You can avoid stepping into warm slimy food puke from your Cat.
Cat and hairballs are normal, and with those remedies, you can make the life of your Cat more healthy and happier.
Products in the picture above can be purchased online. I highly recommend the cat litter box. It is convenient with privacy for your cat and it is nicely hidden in a cupboard. It is a pleasant view. Click here to buy online
If you like my blog please share with family and friends.
What remedy do you use for your cat hairballs? Love to hear from you. Please comment below.
All Yours Melanie
MyPetshopworld Disclaimer:
This website is not intended to replace professional consultation, diagnosis, or treatment by a licensed veterinarian. If you require any veterinary-related advice, contact your veterinarian promptly. Information at mypetshopworld.com  is exclusive of a general reference nature. Do not disregard veterinary advice or delay treatment as a result of accessing information at this site.