Dog behaviour problems. When your dog is in charge.
Do you have a dog that is not listening to you? It does not matter how many times you repeat it, sometimes your dog does it the first time, and sometimes you have to repeat it 10 times until your dog is doing what he is supposed to do.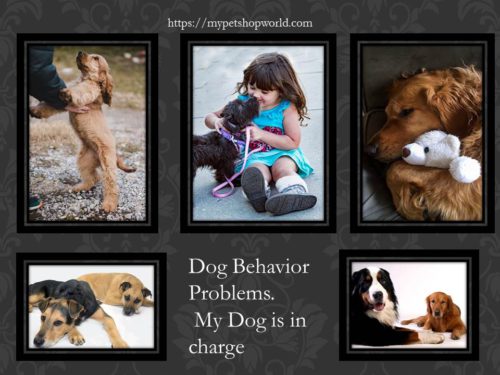 Well, you are not alone. Many dog owners face the problem that their dog is the boss in the home.
One thing I have learned about the behaviour problems with Dogs. There is nothing to worry, you can re-train your dog and any behaviour can be corrected. When you go through the behaviour training for dogs, you will be the boss again.
What is Leader Ship between you and your dog?
What I have learned when it comes to dog training and the idea of leadership, I know the word is kind of strange, and it gets thrown around a lot.
Unfortunately, it's something that is misunderstood.
A lot of people think that leadership is all about being in charge, or being in control, yelling and screaming at the dog and getting them into listening to you.
I want you to understand, that what we talk about today …
How you can learn to be your dog's leader in a much less confrontational way?
In a way that builds your relationship, builds your dogs confidence, and teaches them to like to listen to you.
We had over the years, always dogs and still have them, and we always make an effort to train them.
Yes, you heard right dog training is essential.
Dog training can be expensive, but there are enough courses out on the internet that cost as little as $50 and less.
What is the most common question Dog Owner's ask?
How do I get my dog to listen to me?
There are many responses to that, I mean there are many answers, but one of the most important things is that you learn to be a good leader for your dog.
Why, because dogs love to listen to whoever they feel is in charge.
Did you know that one of the facts is that dogs seek leadership? It is crucial that you can provide that for your dog. Your dog likes to sit back and relax and let you do all the work.
Dogs do this when they feel secure. When a dog is relaxed, the dog is pleasant and is calm. People are often apprehensive about going through some of the steps that are needed to provide good leadership over their dogs.
I remember when I went to dog training school with our Charly ( German Shephard ), and they ask us to implement structure or rules, a lot of questions came up from dog owners asking if the dog will still like them when they apply the rules and basic training.
As if they take away some of the luxuries that they gave already to their dog. In reality, it is us who worries about those steps the dogs are perfectly fine with it.
A dog is a dog and doesn't treat it like a baby or child. A Dog's brain function is different.
I love the sentence one of the lady trainers said, please do remember that dogs are not babies, they are not kids, they are dogs.
Dogs do have a whole different way of thinking, and that is why it is essential that we treat our dogs like dogs and not like kids or babies.
Treating them like a baby or a kid is when it starts that you have problems and your dog will be in charge.
When a dog understands the rules where is his place and where he fit in, that makes you then a good leader, you can spoil your dog rotten just like you want. ( But first, implement the ground rules are important)
How do you know whether your dog needs more leadership or not?
It is pretty easy to find out. You just need to look at how your dog is handling its freedom and the luxuries that you are giving your dog.
# How good is your dog listen to you?
# How well is your dog making good choices in your house around distractions or around your furniture, kids?
# How well is your dog listen to you when you take your dog outside, and there is a lot of distractions?
Right there it is how much respect and how well is your dog listen to you when other things could tear apart his attention from being a good dog or making good choices.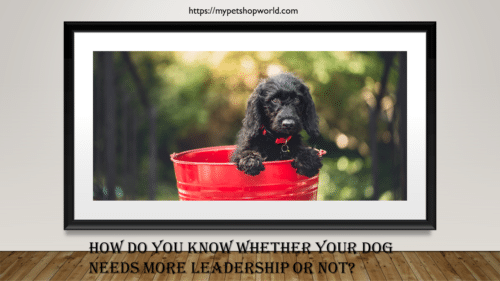 It is very common that people have dogs that are under 1 year of age and the luxuries and opportunities that those dogs are given allow the dog to make to many poor choices.
What happens is that the dog learns from an early age on to many bad habits, as they been given to much freedom in the home, to many opportunities to self-aware, which means you become a bit less important in their life, therefore you are going to struggle with leadership and that causes issues.
What is then the Goal for becoming a good leader for your dog?
From the beginning, you should implement rules and structures with your puppy, as then your puppy starts to show proper behaviour.
When your puppy shows than good behaviour your puppy will make good choices, you then can give your puppy more freedom and more luxuries.
It is very simple to understand the more well behaved your puppy is, the better they listen, and the more opportunity your puppy gets to do his own thing.
Dog Training is not difficult when you follow the rules.
Dog training can be easy it doesn't need to be difficult. Get guidance with our Brain Training Program for Dogs.
This program is for you when you know your dog is
jumping up,
not listening to you…
pulling on the leash
barks uncontrollably
is over excited
you need to train a new puppy
your dog is chewing things not his toys
your dog is digging all the time
is aggressive towards other dogs
is reactive
has his head in the garbage bin

A lot of people don't realize is that you will do a lot of things in your dog's life that your dog will view as an important resource.
That can be something simple as whether your dog is allowed up on the furniture, the bed, the couch, begging on the table, what toys your dog has available to play with all the time.
Does your dog have the ability to decide whether he can go outside or not, like with the use of a doggy door versus asking you to go outside first?
These are all kinds of scenarios or decisions that can be made all throughout the day that either your dog can choose to do on his own, or your dog can choose to do it by himself, without your help.
You can use those resources that your dog finds valuable, and you can use them to your advantage, to teach your dog that you are the leader and you are in charge of those things.
This right here is a great non- confrontational way to say to your dog… If you want this, you have to come through me first, because I am the boss.
But guess what it is a pretty fun thing when those things happen.
Non- Confrontational Ways to talk to your dog "I am in Charge"
Now we talk specifics of non- conferential ways you can teach your dog that you are a good leader and listen to you without you having to be a big meanie.
First things first, say what you mean and mean when you speak.
When you ask your dog to do a behaviour, and they deliberately ignore you, it is really important that you follow through.
It could be something as simple as asking your dog to sit.
If you ask your dog to sit and your dog is too busy sniffing the floor or barking at a distraction, all you need to do is repeat sit in the same kind and neutral voice you did the first time, and follow through by helping your dog to move into position.
Show Passion and stay calm…
But in reality what happens is that people will say "Sit, Sit, Sit," and they get louder and louder and angrier each time they ask the dog until finally the dog gets overwhelmed and learns to listen to an angry voice.
I do not know about you, but I do not want to scream at my dogs for them to listen to me.
What I want them to learn is that if I ask them something to do, they need to follow through.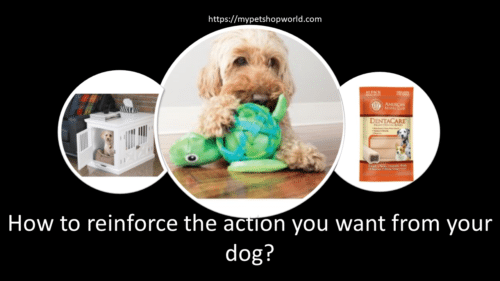 Your follow through needs to be really calm and collected, so the dog is not getting worried or stressed. They basically just learn if Mom tells me something to do, I the dog need to listen.
Another thing I recommend is trying to put your dog in situations all throughout the day where he is less likely to make poor choices. This is how I raise and train our own dogs or puppies.
In my house, I control scenarios that most of the time, the dog is sort of being influenced to make good choices.
I spent most of my day reinforcing, praising, playing with my dogs rather than saying leave that, leave that, don't …
No all that stuff. I try to avoid all that. But of course, if I want my dogs to understand a lesson, they make a mistake I help them with that.
But I don't want that to be my primary way of delivering information.
Use your Dog Crate if you have one.
I might utilize things like my crate more often, a leash or a long line, you can also use baby gates when you have kids, or you want to barricade some rooms off, so your dog can not go off wandering and doing their own thing.
So what that means is that you try to control the environment they are in, so that the dog is less likely to get into mischief and to learn bad things.
There are other easy things you can do to show your dog that you are a good leader.
Food, Treats and Behaviour Problems.
Things like don't hand them food for no reason make them do something for it.
It can be something enjoyable too like doing the trick or asking them to give the paw, sit down or lie down, and then you reward them.
It is fun to give your dog a treat just because they are cute, but you are missing a perfect opportunity to teach your dog that you are a good leader and they should listen.
I often had my dogs when they are young wait in their crate when I open the door, so I can quickly put on the leash before they barge out and I need to release them.
With the leash, I am working with a bit of control into those scenarios. My dogs now as they are adult dogs do understand when going for a walk they need to sit and be still so I can put on the leash.
You can also control your dogs' resources. Typically when you have a young dog, you should not scatter the toys around the house or home so that the dog can go and play on its own.
I have chew toys, chew bones or Kong toys that aren't hurting my dogs when I am not "Paying Attention."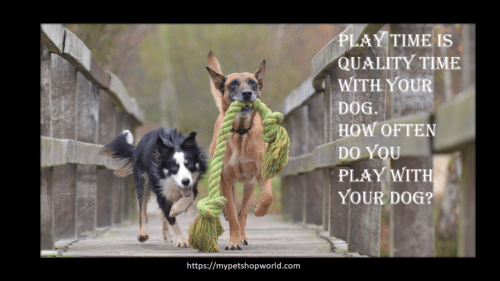 I always save the amusing toys for times I could play with them together. Like the tug of war, a game of fetch, but those things I wanted my puppies to associate with me. It gives it a more valuable role in the dog's life.
Dogs on the bed and dogs on the furniture.
I will be the first one to admit that my dogs and cats snuggle on the couch with me, and they sleep in our bedroom.
But here is the thing I do not offer that luxury to my dogs until they have proper training and they listen really well.
For the time being, if you have a dog that tends to be a bit unruly or maybe he is not listening that well to you, those are two areas you can remove from your dog as an extra luxury.
For example, if your dog is up on the couch, make sure if you tell your dog to get off that your dog happily gets off the couch when you ask.
Or maybe you come into the living room, and your dog is lying on the couch, you know in your spot, rather than going and find a spot somewhere else, have your dog move out of the way so you can sit there.
Maybe you have your dog sleeping on a dog bed instead.
Or one of my dogs sleeps in his crate in the launch room sometimes 2 dogs sleep there.
If you want to go your entire dog life without letting them on the couch or bed, that is totally fine.
But I suggest you wait until you established some excellent control before you allow your dog to do things like that.
The Ultimate Goal
The ultimate Goal is to be such a strong leader for your dog that when they make poor choices, we can redirect them with the simple use of your voice.
Unfortunately, when you have a young dog, and everyone who went through it can relate to it, you first need to teach them that your voice has merit, there is a reason for your young dog to listen to you.
Brain Training for Dogs. Click here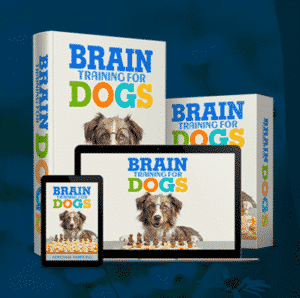 It is crucial that when you are asking your dog not to do those particular behaviours, that you are then following through with something that's going actually to get your dog to stop.
It could be utilizing your leash, and you are manoeuvring your dog away from that particular area, or taking your dog and placing him into a position if you ask your dog to sit.
Try not to be repetitive with your words. Our ultimate Goal is that your dog learns to listen the first time and every time.
If your ultimate Goal is to have your dog to listen to your voice without having to follow through at all, it is imperative that you have the right timing when you are going to help your dog understand these situations more clearly.
For example, if your dogs head is in the garbage, and you tell your dog "leave it "try not to take 10 years across the kitchen, and remove your dogs head from the trash.
Move close to them and repeat "leave it" and then follow through using the leash.
Dogs learn within one second, so it is really important that when we are teaching our dogs, that we remember what time and type of information they need from us in order to be clear and not confusing.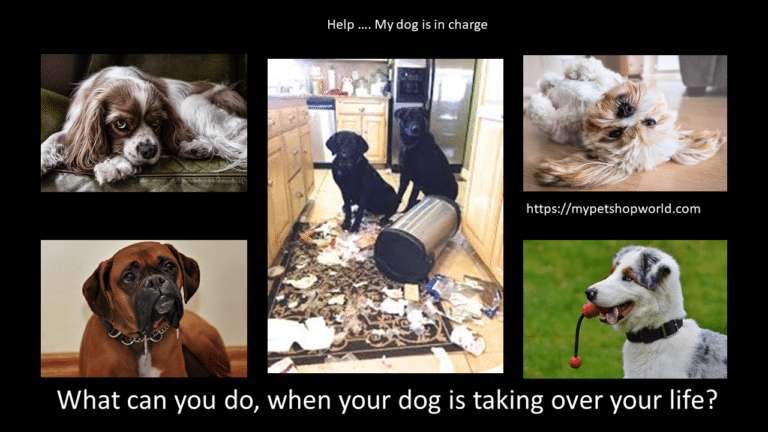 Be careful that you are not allowing your dog to spend an extended time in the backyard, without you paying attention to your dog initially.
It is important that you are not allowing your dog to have free range of the entire house so that he can get into your laundry and eat your kids' toys.
Spend quality time together with your dog as much as possible so that the quantity isn't important anymore.
3 elements are very important in dog training
Is to be consistent
To be clear
And to be fair.
If you can nail down those three elements, you are bound to be a great leader for your dog.
I know it sounds a lot, and it involves passion and time, but if your dog is trained correctly, you will enjoy life with your dog.
It is easier to have a dog that knows you are the leader instead of having a dog who thinks he is the pack leader.
If you enjoyed my blog "My dog is in charge. How can I take back control of my dog, so he accepts me as the Pack-leader?"
Check out the Brain Training for dogs. It is a great training program for dogs with behaviour problems. It is inexpensive and a great resource to train your dog,