The Pro and Cons of the safest heated pad beds for cats. 
Are you one of the Cat Owners who have a cat or cats who are always cold in winter. Your Cats choose the place who gives the most electric heat like your computer or behind the TV. Well, then I welcome you to my club for cold kitties. 
If you decide to buy a heating pad for your cat then you should look out for the safest heated pad beds for cats. 
One caution,  heating pads that are made for human are not for cats. You can injure your cat. Cats have sensitive paws and when the heating pad gets to warm it can burn their paws. 
KH Mfg Thermo-Mod Dream Pod Pet Bed.
I have to say I bought this one myself I thought it is a great look and fits easily anywhere. It was important to me that it has a kind of cover for my cats. 
It has low wattage, gentle warmth and it provides ultimate comfort. Cats love it ( at least my cats do) it is also suitable for smaller size dogs.
The great feature I find is that the K&H Pet Bed Warmer can be taken out from the cushion so that you can use machine wash on the cover,( not the heating pad) A great thing is you can use it all year round with or without the heated pad. 
I like the simple modern design and low wattage. It has a large entry ( that is important if you have two cats trying to get in at the same time) 
Easily assembled together ( zipped together). The pillow has the polyfill. You can also use a blanket in summer when you remove the ped bed warmer. 
The cat should never use the heating pad without a cover or the original cushion. It has the safety listing MET.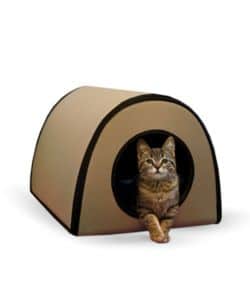 Pros: 
Low wattage, gentle heat ( no overheating) 

 Comfy for cats, and it provides the cat with a place to hide

Large entry

Comes in one colour like tan( brown) 

The cushion cover  is washable

 Non-slip pillow 

 Easy to store 

The rigid exterior will hold up to any use
Cons: 
# If you have two and more cats you might have to buy more then one bed. 
# First impression the bed is not warming up. 
Testing your K&H heated pad beds for cats:
In the beginning, I thought the bed is not heating up, but then I read the instructions and it says that the K&H heated bed may not feel warm when you touch the pad when your cat is not on the pad. That is normal. Test it out with a pillow. Place the pillow on top of the bed. After around 20 minutes, touch and feel under the pillow. You can feel that it is warm, not hot.  
This is a great product, I use it and I can recommend this as one of the safest heated pad beds for cats.
KH Mfg Outdoor Thermo-Kitty House. Keep your cat safe and warm.
This kitty house is excellent for indoor or outdoor cats.

a great pro it has a water-resistant construction that will allow you the placement anywhere.

Build with two exits, and the doors are see-through ( transparent) to prevent your cat will be trapped by predators. It includes removable door flaps.

Tool-free assembly

MET Safety Listed, and a 1-year manufacturer's warranty.

It comes with a  Lectro-Soft small with removable cover.
I bought this house for our stray cats. Some of them are not comfortable in the house. But winter can be quite freezing and I worried about my stray cats so I thought this might be a solution for our terrace. It worked out great. Our strays love it.
This Outdoor Kitty House has all the great features a heated kitty house should have. It is extra wide and has space also for more multiple cats. The assembling is relatively easy, and it comes with a zip- on the roof.  Includes a K&H Lectro-Soft™ that partially heats the floor so the cat can choose to be on or off the warmth. The Kitty house comes with two removable door flaps. Also available in unheated.
One year limited warranty. Wash the fleece cover on the gentle cycle with cold water, then line dry. ( do not tumble dry) 
I have them now 3 years and I have to say they are for me the safest heated pad beds for cats. I never had a short fuse or any problem with it. It is important that you read the instructions. 
Pros:
The design is perfect for cats. Can also be used for smaller dogs. 

Includes a K&H Lectro-Soft™ that partially heats the floor. The cat can choose to be on or off the heating pad.  

Comes unheated and heated

Perfect for indoor and outdoor use

Water resistant construction allows placement anywhere

Two exit design with

see-through

doors prevents being trapped by predators

Tool-free assembly

MET listed.
Cons: 
You have to put it somewhere, it is covered from stronger winds as it is not so heavy and can be blown away. 
Item Specifications:Size:
22″L x 18″W x 17″HWatch the video
All the best heating pads for cats should have a safety standard. Those Cat houses can be used throughout the year with and without heating. Depends on which part of the world you live there are always summers what are cool at night. 
KH Mfg Thermo Kitty Cafe Heated Cat Feeder
The K&H Thermo-Kitty Café™ makes sure your outdoor cat always has access to food and water no matter how cold it is outside.
Designed to withstand sub-temperature degree weather, the Thermo-Kitty Café is
constructed from durable ABS plastic and comes with two removable, machine-
washable bowls that can be used for food, water, or both.
Features:
Specifically designed for outdoor cats

Provides two bowls for food and water

Removable stainless steel bowls

Thermostatically controlled

Durable black ABS plastic frame

MET listed

One year manufacturer's warranty
Item Specifications:
Colour:
Black
Dimensions:
14″L x 8.5″W x 3″H
Do you have cats and do you buy them the heating pads? What is your opinion and which one do you like best? 
 If you bought a cat heating pad or you think you have the best-heated pad beds for cats please share with us. 
Thank you for taking the time to read this blog 
The best heating pads for cats. Different Options.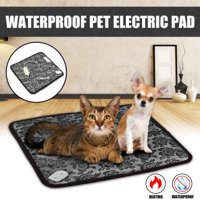 More Blogs to read.