DIY Dog Training with the right tools.
Why is the Pet Safe gentle leader head collar the best for your DIY Dog Training? 
This Gentle Leader Headcollar is a perfect no-pull solution to help improve leash manners and the bond between you and your dog. Designed by trainers, the Gentle Leader Headcollar is loved and trusted by vets and pet parents.
It has helped improve 5 million walks worldwide. This training tool is best for dogs who pull because it interrupts your dog's instinct to pull against pressure. 
Download our Free DIY Dog Training. Click here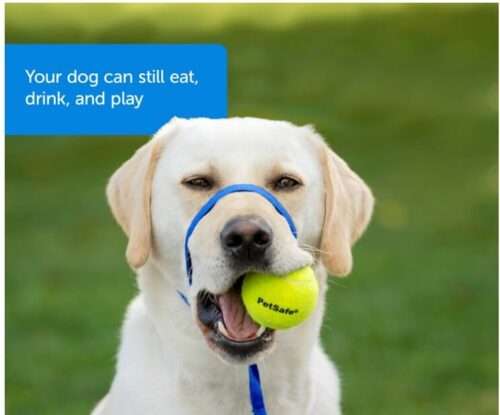 The headcollar loops around your dog's nose, so when he pulls, it gently moves his head toward you so he can refocus his attention on you and away from other distractions.

Walk relaxed with your dog thanks to the Dog Training Head Collar. 
By using the Gentle Leader Head Collar, you can make those stressful walks with your dog that feel more like tug-of-war battles a thing of the past.
Those collars are designed to put the pet owner in control, even when it comes to the unruliest dogs.
This collar isn't like a regular dog collar. It's a training tool designed to help pet owners teach their dogs to walk naturally and calmly beside their owners.
Using the Pet Safe gentle leader head collar, you can get through to your dog in ways you can't by using a regular collar.

Why is this Gentle Leader Head Collar different?
Those other types often squeeze a dog's throat and put a lot of pressure on the trachea. This is why you sometimes hear dogs gasp and wheeze when straining against a leash.
But this collar focuses on controlling and training your pet through calming points. This calms your dog even if it's easily excitable or seems like your dog is uncontrollable.
Using the gentle leader head collar, you can eliminate the leash pulling that goes hand in hand with a regular collar. It's not fun for the pet owner to get dragged around, and it's stressful for the dog when he wants to go and has all that pull against his throat.
Pet Safe Gentle Leader Head Collar is most effective in correcting bad Habits. 
Effective in correcting the bad habits that many dogs have. It can correct behaviour when they want to be in control. It can also stop aggression, anxiety and the excited behaviour that comes from distractions during walks.
It's also helpful to stop bad habits like jumping or lunging at other animals, dogs or people. The collar is adjustable so that you can fit it comfortably around your dog for better control.

What is the head collar made from?
The straps are nylon for durability, and the nose loop is padded to be comfortable for your pet. Some people question whether the collar acts as a muzzle. It doesn't. When the dog wears this training tool, he can still drink, eat, pant, catch a ball, bark or do whatever he wants. Great to combine it with the reflective dog training leash. 
Advantage of the Head Collar.
It doesn't keep his mouth closed as a muzzle does. But you can use it as a muzzle, too, if needed.
Most dogs adjust calmly and happily to the collar.
This training tool is effective even when other devices have failed. It can be worn for hours and can be used to help train puppies. The quickest way to help your dog feel comfortable wearing his new headcollar is to let him wear it without a leash.
At the same time, he does all his favourite activities.
The best part is, once your dog is a champ at walk etiquette, you will probably only have to use the headcollar as a backup during situations when you need a little more control, like visits to the vet.
This headcollar won't fit our furry friends with short snouts (like pugs or bulldogs). If you have a dog with a short snout, check out our  Easy Walk No-Pull Dog Harness. 

Features of the Gentle Leader Head Collar 
➤ The most effective no-pull solution to help improve walks with your dog
➤ Vet-recommended and trainer designed
➤ Allows full range of motion to eat, drink, pant and catch a tennis ball while wearing the headcollar
➤ Rests across your dog's nose, interrupting your dog's instinct to pull against pressure
➤ Durable nylon with a padded neoprene nose loop for ultimate comfort
➤ Quick-snap neck strap and adjustable nose loop for easy fitting in minutes
➤ Designed with minimal straps to keep your dog cool
➤ Available in different colours 
➤ Won't fit our furry friends with short snouts (like pugs or bulldogs)
Pet Safe Leader Head Collar combines great with the Laroo Reflective Dog Training Leash. 
If you have a pug or bulldog, check out the easy walk, no, pull harness.